Blue Bloods' Family Dinners Never Intended To Feature 'Assigned' Seats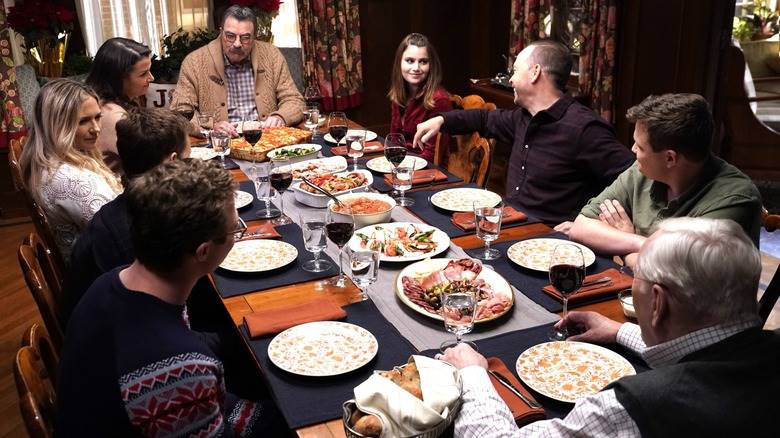 Protecting New York City and doing it family style. That's the way of the Reagan family on the hit CBS series "Blue Bloods." The Reagans have been working in law enforcement for generations. While they run to the rescue at a moment's notice, they always make time for dinner, a moment that has become a cornerstone of the hit crime drama. New York City Police Commissioner Frank Reagan (Tom Selleck) sits at the head of the table, with his father, Henry (Len Cariou) sitting across from him. Frank's son Danny (Donnie Wahlberg) sits next to Frank on his right while his daughter Erin (Bridget Moynahan) sits to his left. Younger son Jamie (Will Estes) usually sits on the immediate left side of his grandfather. But according to Estes, the assigned seating was not intentional when they first started filming.
In an interview on the "Blue Bloods" YouTube channel, Estes said that he and his cast members used to make their way around the table, but one day, that just stopped happening. "I don't think anyone decided. I think it just sort of happened ... We definitely have all our own spots now. The truth is, somebody probably decided, I just never knew about it. But I'm not sure," he said.
While each member of the Reagan family has claimed their seat at the table, there was a moment in Season 10 that changed the family dinner table forever.
How the Reagan family dinner table changed in Season 10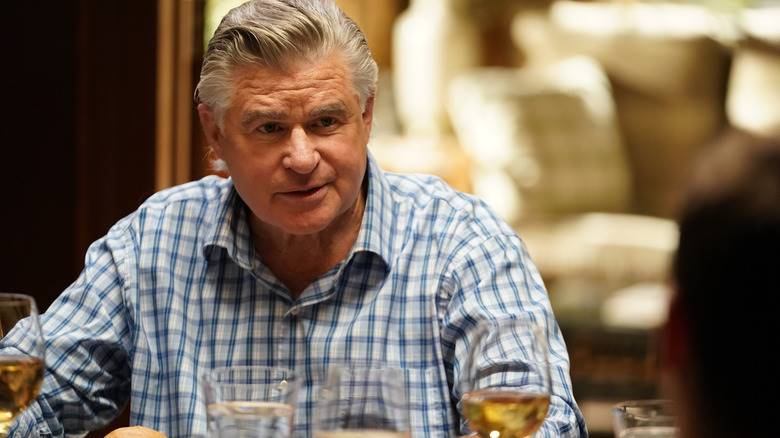 When "Blue Bloods" returned for Season 10, the Reagan family made room for one more, and their last name was not Reagan. Lenny Ross (Treat Williams), Frank's former partner, became the first guest at the table during Season 10, Episode 1, "The Real Deal." Williams told TV Insider, "I was very honored that I was invited to the family dinner. No outsider had ever had dinner with the family."
Since then, other guests, like Erin Reagan's colleague Anthony Abetemarco (Steve Schirripa), have passed the dishes around the table. And each guest brings their own personality to the dinnertime conversation, including Jamie's wife, Eddie (Vanessa Ray), who gets a seat at the table in Season 9, Episode 1, "Playing with Fire," which follows her and Jamie's engagement. Executive producer Kevin Wade told Entertainment Weekly, "It's an injection of nitrous oxide into that dinner table. It throws off the balance– in a good way."
Whether it be a guest or a member of the Reagan family, each remembers their first time sitting at that table. For Donnie Wahlberg, claiming the seat right next to Tom Selleck was intimidating. He told TV Insider, "My dad used to wear a mustache a lot, and he's very intimidating and he sat at the head of the table like that. It was sort of traumatizing for me to sit there and have to come in on my first day of shooting the series and just basically take over the dinner table."