So Touching Moments! 19 Times The Cast Of Friends Has Reunited Since The Finale!
They'll be there for you like they've been there before
Our favorite are officially getting back together for a  when the streaming platform launches in May. But it won't be the first time the cast has reunited over the years. Scroll through to look back on all the mini-reunions the stars have had since the sitcom's 2004 finale.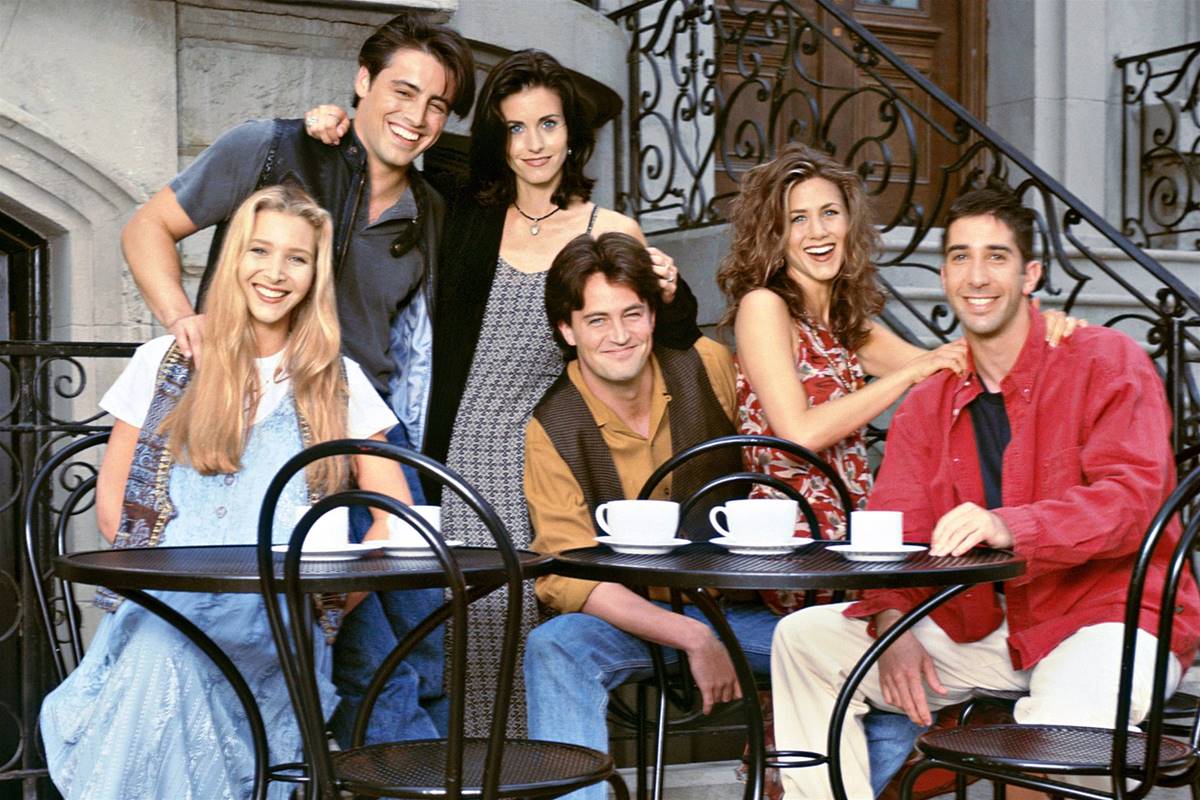 February 2013: Chandler and Monica's second first date?
 shared this behind-the-scenes pic of him and his former onscreen wife  hanging out while filming an episode of Perry's own comedy series , in which the two go on (another) date that goes horribly wrong — grand theft auto style.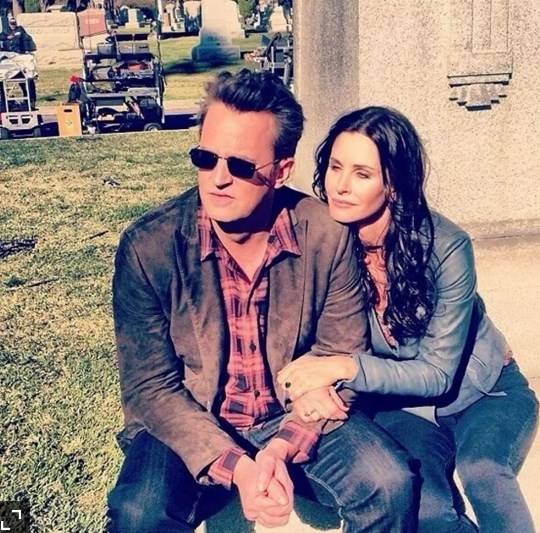 May 2013: The Ellen DeGeneres Show
In preparation for her Ellen interview, Jennifer Aniston makes a surprise house call on Matthew Perry at 8 a.m. where she is welcomed with less-than open arms. And for good reason — Perry was not only hiding "lover" Courteney Cox in his home, but Lisa Kudrow and Ellen DeGeneres herself, who are seen trying to sneakily exit out the front door behind Perry.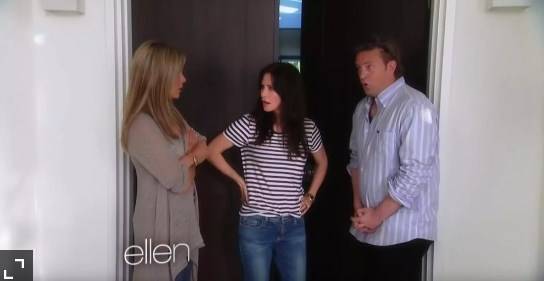 July 2013: CNN
Matthew Perry guest hosts the show for the day with former costar Lisa Kudrow, who gets into some more serious talks about Friends. Both agree that they were not quite done with the series yet — they would both get in a time machine and continue the show from 2004. Kudrow also admits that at times, it can be hard to rewatch the show that held their lives for a decade.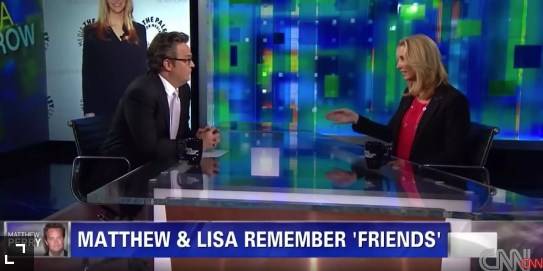 July 2014: Craig's restaurant in Los Angeles
The three lovely leading ladies of Friends put their real-life friendship (20 years later) on display with a night out in Los Angeles. The trio hit the town for a drawn-out dinner to celebrate Courteney Cox's engagement to Snow Patrol rock star Johnny McDaid. (The two ended their engagement but are still together.) In an interview with Jimmy Kimmel in September 2014, Cox revealed the proposal happened at a dinner hosted by Jennifer Aniston!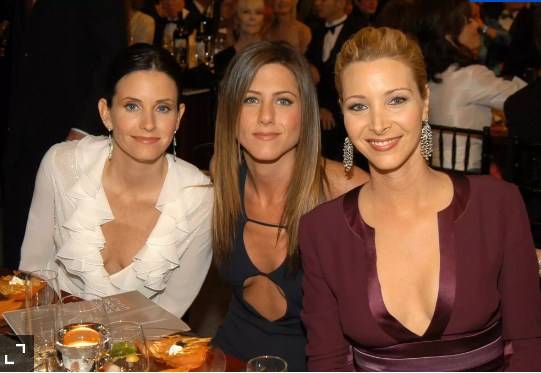 July 2014: Red Carpet at the CBS/Showtime TCA event
Literally the next day, Lisa Kudrow ran into both Matt LeBlanc and Matthew Perry on the Red Carpet at the CBS/Showtime TCA event. The sharp-dressed group exchanged laughs like old times and LeBlanc revealed in an interview that he had FaceTimed the pair at dinner the night before.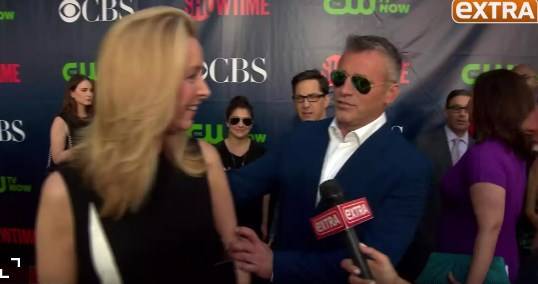 August, 2014: Jimmy Kimmel Live!
In a live interview,  asked Jennifer Aniston to humor him in a huge way. He sprung a live reading of his self-written fanfiction script on set. "This is an exact replica of the kitchen in the show," bragged Kimmel, "I actually spent $80,000 making it to the T. Every detail is correct." He cast himself as Ross and Aniston as Rachel to discuss the caliber of his love-making. One-by-one, Phoebe and Monica nonchalantly entered through the apartment door wielding their own scripts, but fed-up with the premise, the women rolled their eyes and exited together.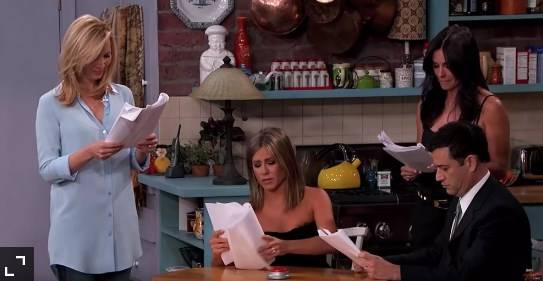 November 2014: Jimmy Kimmel!
In a jaw-dropping show segment of  Lisa Kudrow and Jennifer Aniston engaged in a rapid exchanging of curse words (bleeped out for the viewers at home, of course). Kudrow credited her teenage son with her extensive knowledge of creative cusses.
April 2015: Just Before I Go movie premiere
Jennifer Aniston came out to the premiere of Courteney Cox's feature directorial debut and embraced her friend, applauding her for her milestone achievement.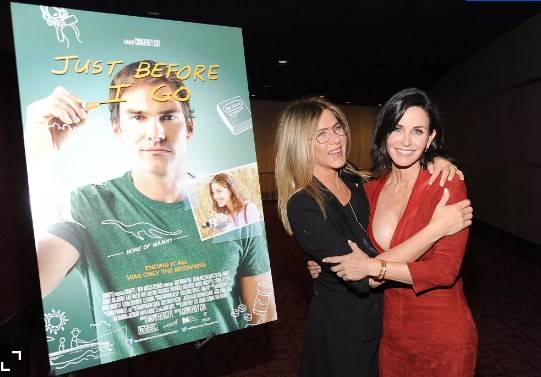 June 2015: The Phoenix House's 12th Annual Triumph for Teens Awards Gala
Lisa Kudrow accompanied Matthew Perry to the Phoenix House's event at the Montage Beverly Hills that celebrated the organization's work with young people overcoming addiction. She presented him with the 2015 Phoenix Rising Award, preceding the award with touching words: "Facing addiction and fighting for sobriety is a very personal battle, one that Matthew fought without the luxury of a moment's privacy. Yet he faced the reality of his situation with his characteristic resilience, stamina, and grace."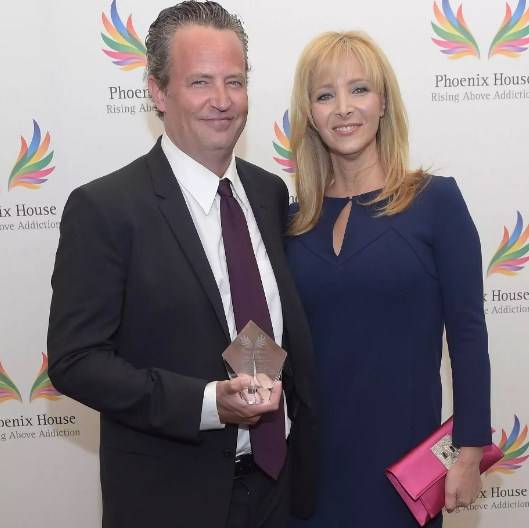 August 2015: Jennifer Aniston's wedding
Although there's not public photographic evidence, Courteney Cox was Jennifer Aniston's real-life maid of honor at her wedding to ! The two, who , were married in the backyard of their Bel Air mansion, and  the celebration.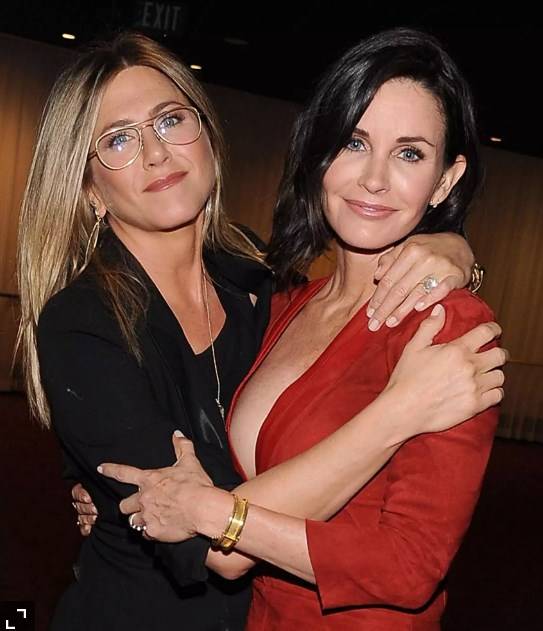 February 2016: NBC's Must-See TV
Although Matthew Perry was unable to attend, absent while on a stint in London for his play , the rest of the Friends cast reunited for NBC's , to honor the legendary director of their sitcom (and many more), for directing his 1,000th episode of television.
February 2018: Jennifer Aniston's 49th Birthday
A year older, but still just as flawless as her first day on screen! To celebrate Jen's special day, Courteney Cox hosted an intimate, private gathering at her Malibu home for her longtime best friend.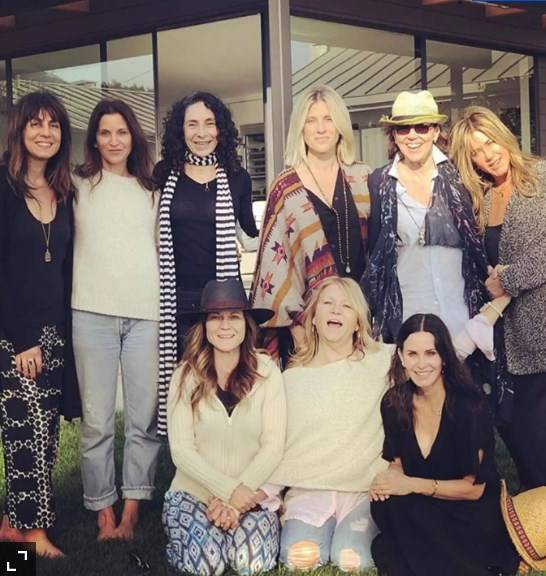 April 2018: Chanel and the Natural Resources Defense Council's "Our Majestic Oceans" benefit in Malibu
The best-friend duo arrived in coordinated ensembles to the exclusive benefit dinner to recognize the Natural Resources Defense Council's wildlife and ocean protection initiatives over the years. Ron Meyer, the vice chairman of NBCUniversal, hosted the event, complete with a view of the Pacific Ocean from his Malibu estate.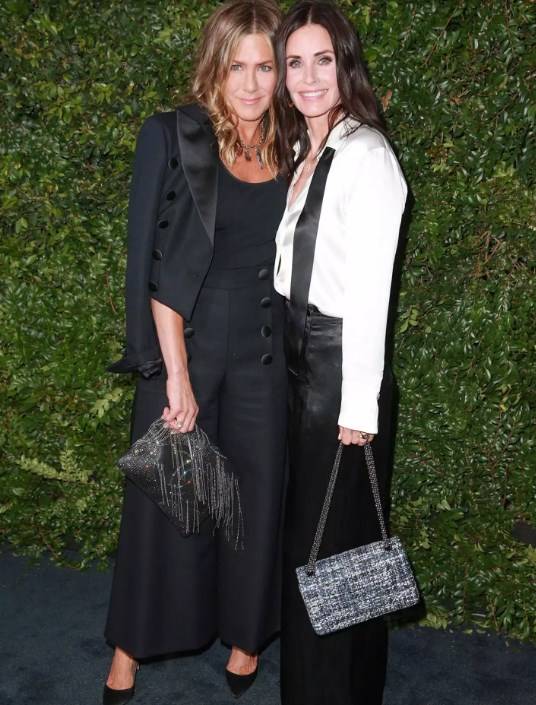 April 2019: Instagram
Courteney Cox gave a sweet shoutout to Lisa Kudrow via her Insta after a Saturday night hangout.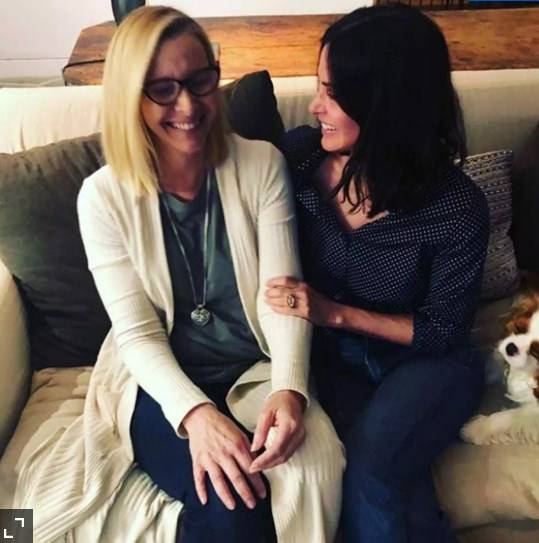 September 2019: 25 Words or Less
Monica's competitive spirit showed up when Cox and Kudrow appeared on the game show . Cox was confident she could get her teammates to guess the answers in 14 words or less -- and .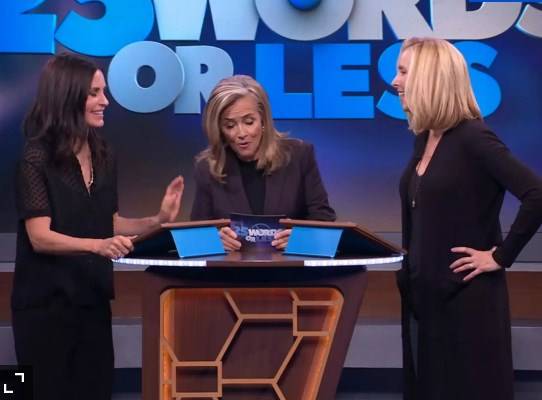 October 2019: Jennifer Aniston joins Instagram
 in October 2019, and her first post was this sweet photo of the cast all together. "And now we're Instagram FRIENDS too," Aniston wrote in the caption.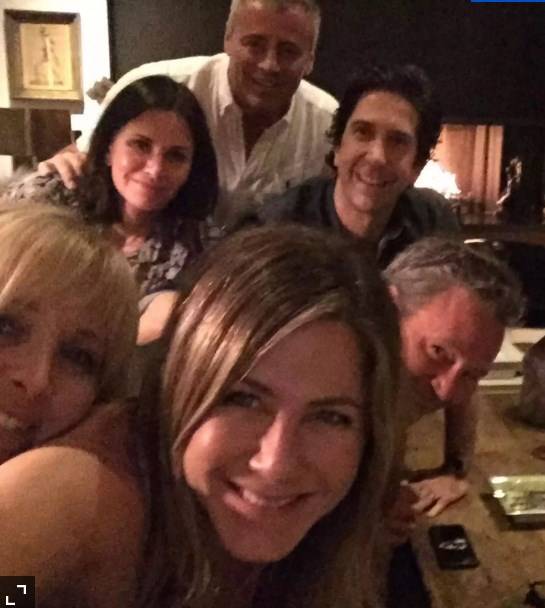 November 2019: Friendsgiving
Aniston's ex-husband  shared an epic group selfie from the actress's , with Cox in attendance along with , , and .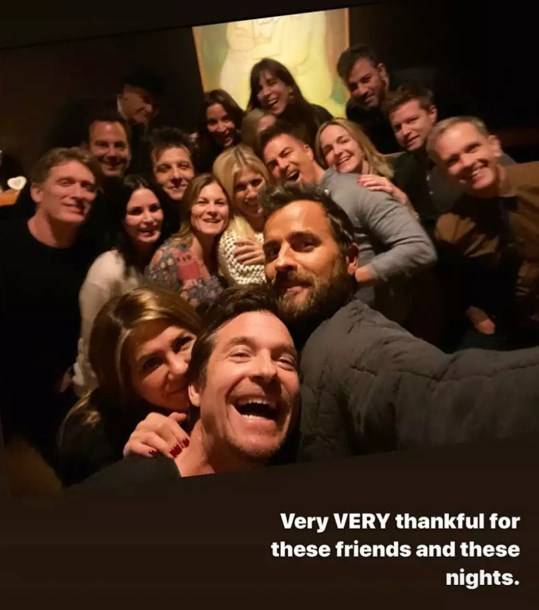 January 2020: A night out
Aniston took to Instagram again to document another reunion, when Cox and Kudrow joined her for . "Hi from the girls across the hall," her caption read.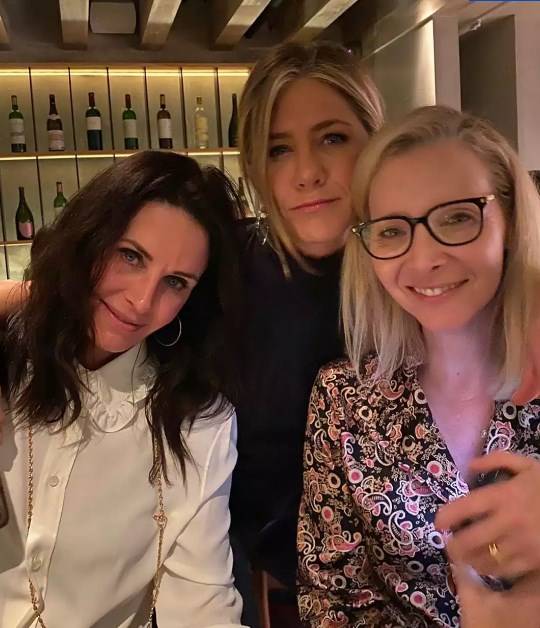 September 2020: 72nd Primetime Emmy Awards
 scored eight Emmy noms for its drama , including an Outstanding Lead Actress in a Drama Series nomination for Aniston. Aniston started the evening setting the Emmy stage afire with host , but by the end of the night she was back home with her friends Cox and Kudrow when her category was up in the run of the awards show.