Jennifer Landon Wanted To Quit Acting After Her "Yellowstone" Audition!
Yellowstone introduced the character Teeter during Season 3. Played by Jennifer Landon, the foul-mouthed, pink-haired ranch hand became a quick fan-favorite.
Teeter earned the Yellowstone brand by the end of Season 3 for her hard work and loyalty. But John Dutton was unaware Teeter had been branded. So when he told all of the women in the bunkhouse to leave during Season 4, Teeter was included.
She later returned to the ranch to plead for her job, and mentioned she had the brand. This softened John's heart, and he welcomed her back. Teeter also shared an emotional moment with Rip after she was permitted to return to the ranch.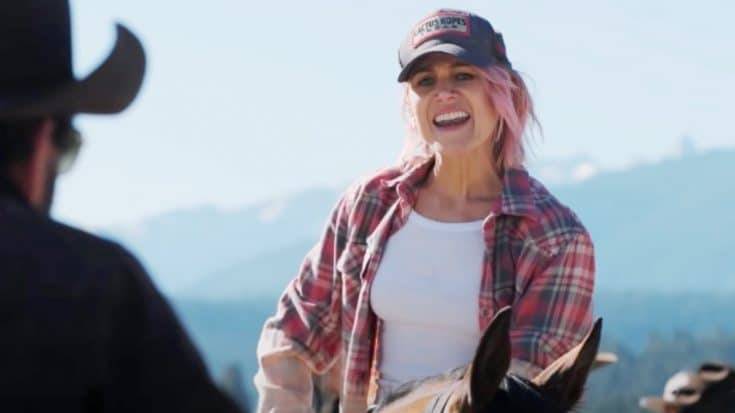 It's hard to imagine anyone else playing Teeter. But as Jennifer admitted in a behind-the-scenes chat with her co-stars, she walked away from her audition feeling confident she did not get the part.
She told her embarrassing audition story:
"I was super nervous. I didn't think I was gonna get it, at all. And I thought I tanked the audition…I did not, apparently. But I thought I tanked it so hard. I kept having the casting associate read the scene again…which is also a big audition no-no…and then I was so mad that I had messed it up, that I sort of checked out of my body. And on the way out you know they're like, 'Goodbye, thank you very much.' I somehow was back home, with my family, and I said, 'Goodbye, I love you too.'"
After the audition, Jennifer called her manager and said she wanted to quit acting.
"I was like, 'I gotta become like a hooker or a writer after this, man!'" she joked. "No more acting."
Thankfully, Jennifer didn't have to resort to those other options, because she landed the part. Listen to her tell the story of her audition in the video below.
We're so glad Jennifer got cast as Teeter, because she's perfect in the role!