Jennifer Aniston Breaks Down Watching Video Of a Daughter Pleading To Help Unemployed Father!
Jennifer Aniston broke down in tears while watching a video of a daughter pleading with Ellen DeGeneres to help her unemployed father. The video was made by Elyse Kimball, whose father Jeff lost his wife to cancer when Elyse and her sister were young. Elyse tearfully expressed her love for her father and her desire to give him something he deserves.
Jennifer was deeply moved by the video and Ellen surprised the family by sending a film crew to their house. During the show, Jeff and his daughters were invited up on stage, where they shared their story. Jennifer wiped away tears as they spoke about their mother, who was a big fan of Ellen, and shared how Ellen's character Dory from Finding Nemo inspired her battle against cancer. Ellen then revealed that their house had been decorated with Christmas lights and filled with presents. Jennifer also gifted the family with a Christmas ornament of the Eiffel Tower, as it was on the mother's bucket list to visit Paris.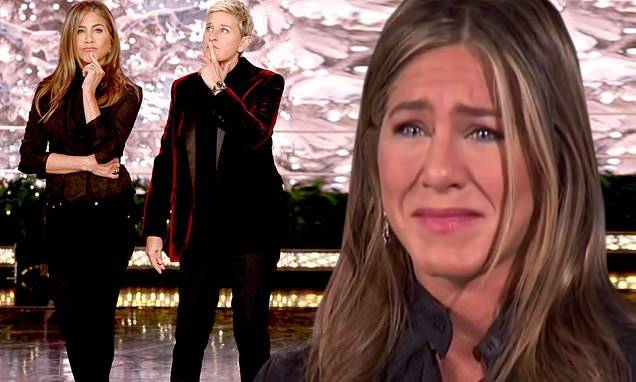 Ellen announced that she was sending the family to Paris for a vacation, and Jennifer suggested visiting Italy and Greece as well. The family was overwhelmed with joy. Later in the show, the family played a game and each member received $50,000 in Visa cards. The episode also featured Michelle Obama surprising students at a school in Washington, D.C., and announcing gifts for the school, including a new outdoor basketball court and new computers. Sterling K. Brown also helped with a giveaway by surprising a sign spinner with a new car, $100,000, and a job offer. The episode ended with Ellen and Jennifer giving the audience members various gifts. This was the first night of Ellen's three-night Greatest Night of Giveaways, with more celebrities joining in upcoming episodes.