There's Nothing Worse Than Flubbing A Line During A Blue Bloods Table Scene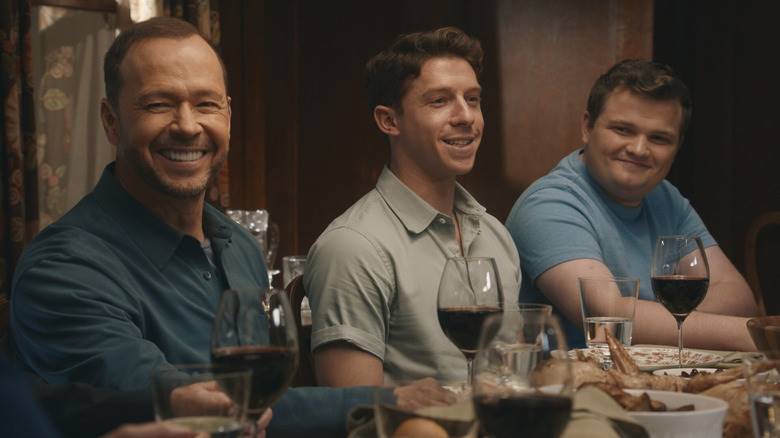 No other TV family knows how to gather around the table for dinner quite like the Reagans on "Blue Bloods." No matter what's going on at work, the Reagans know how to join together, drink, and be merry, at least when it comes to their weekly Sunday night dinner. The dinner table scenes are a staple of the show, a consistent representation of the complex family dynamic at the heart of the narrative. These dinners offer an opportunity for the family members to have moments of reflection, though they also provide the perfect setting for drama. Even Tom Selleck thinks that the best part of "Blue Bloods" family dinner are the arguments. 
The Reagans are a tight-knit bunch, though their differing personalities often clash, giving each actor the chance to rattle off some rapid-fire dialogue. After years of watching the family chow down, it's hard not to wonder what it's really like to sit at the Reagan family dinner table. Behind the scenes, the actors must work together to tell the story, and there's little room for error. According to "Blue Bloods" stars Vanessa Ray and Will Estes, messing up during a dinner table scene can be pretty embarrassing.
Filming the dinner scenes can be intimidating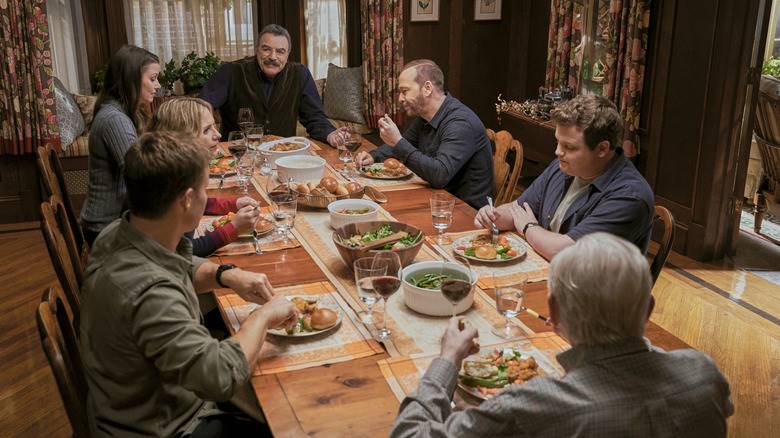 Vanessa Ray and Will Estes have been playing married couple Jamie Reagan and Eddie Janko-Reagan for years. Since Jamie and Eddie started out as police partners before developing a romantic relationship, Estes and Ray have established a good rapport that translates to their characters' dynamic. However, despite their years of experience, Estes and Ray still find the dinner scenes challenging to film. During a WFSB 3 interview, the co-stars spoke about how nerve-wracking it can be to mess up in front of the entire crew, not to mention seasoned actors like Tom Selleck and Len Cariou.
"It's a scary room to forget a line at because it's a really long scene to shoot, and you're surrounded by consummate professionals," Estes explained. "So when you go up on a line at that table, it's a lot of people watching you mess up."
"It's a lot of eyes," Ray added. "And at first they're like, 'No, it's okay, just take your time, you're fine,' and then, after a while, they're like, 'We've got kids like we've got to go.'"
Thankfully, the set of "Blue Bloods" sounds like a reasonably supportive environment. Maintaining a productive atmosphere is key, given that it takes an entire day to film one dinner scene. However, the Reagan family dinners have stayed consistently engaging season after season, so it seems like the cast and crew have it down to a science at this point.