The 8th season of Blue Bloods brings newness to the tried and true police procedural. Linda (Amy Carlson) is dead, and as Danny (Donnie Wahlberg) mourns her untimely death and struggles to raise his sons on his own, he also contemplates retirement. Frank (Tom Selleck) butts heads with a new mayor, Jamie (Will Estes) and Eddie (Vanessa Ray) begin to face the real feelings they have for one another off the clock. Erin (Bridget Moynahan) and her ex-husband Jack (Peter Hermann) still clash in the courtroom, but their love and attraction for each other cannot be denied any longer. Nicky (Sami Gayle) and her two cousins Sean and Jack (Andrew and Tony Terraciano) are grown up and have really earned a place at the Reagan's Sunday dinner table.
As usual, within all the serious subject matter, witty/smart-aleck remarks come faster than Danny chasing a perp. Here are the best quotes from this season of Blue Bloods.
I've Gone From Being A Detective To Miss Moneypenny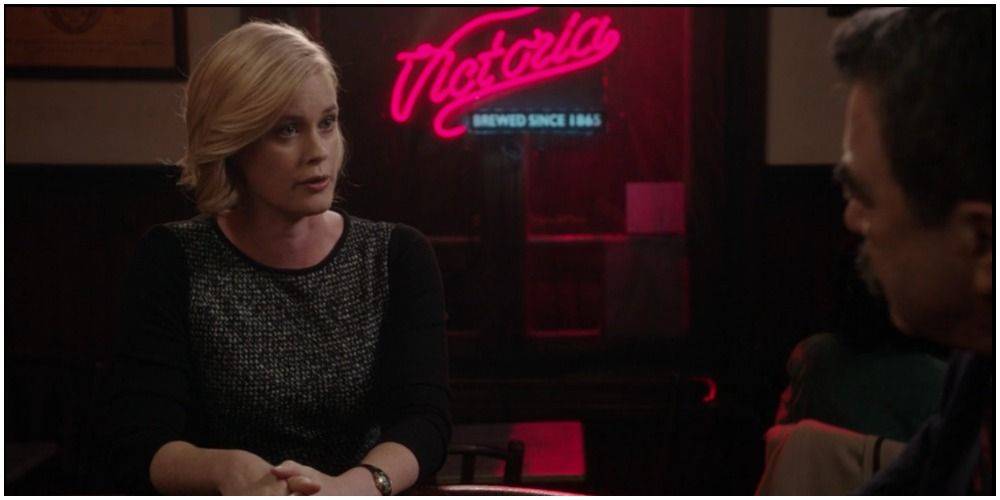 When Baker (Abigail Hawk) receives a job offer from her old lieutenant, who is now the CO of a prestigious division, she entertains it because sitting outside the office of Commissioner Frank Reagan, the executive assistant feels as though she's gone from "being a detective to Miss Moneypenny," a reference to a fictional character in the James Bond novels and films who is secretary to M, Bond's superior officer and head of the British Secret Intelligence Service.
Frank denies the transfer, and Baker is grateful when she realizes that her old boss was just using her to get in with the top cop.
Now I've Got Glen Close And Boiled Bunnies On My Hands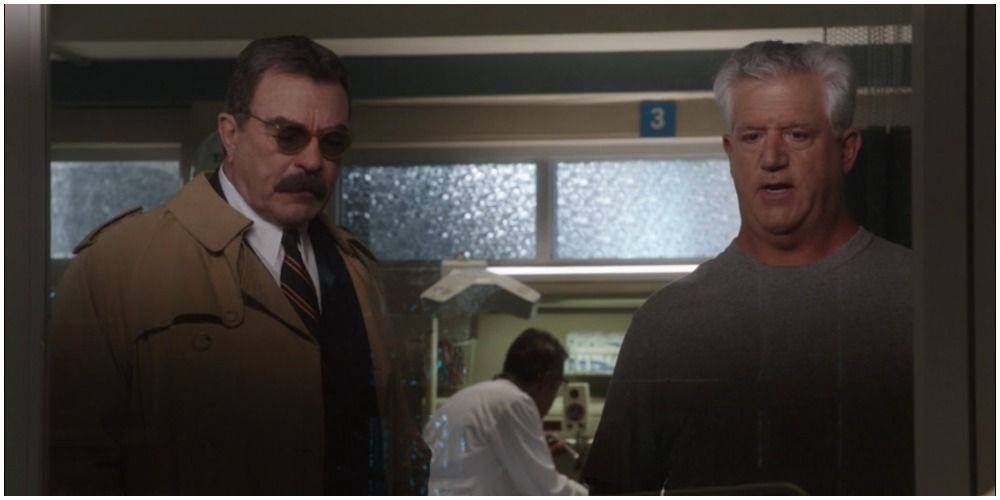 Frank personally investigates when Garrett (Gregory Jbara), along with his girlfriend, is attacked by a SWAT team outside his home. The Commissioner's deputy man is separated from his wife and asks if she or ex of Garrett's new lover might be behind the call that sent an army of Special Weapons And Tactic officers after him.
"That's your first guess? That I had an affair and now I've got Glen Close and boiled bunnies on my hands?" It turns out to be a 16-year-old blind boy who believed his visual impairment was the reason Garrett turned him away from the Commissioner For A Day program, which actually was canceled because Danny's wife Linda was killed.
How Good Does News Have To Be?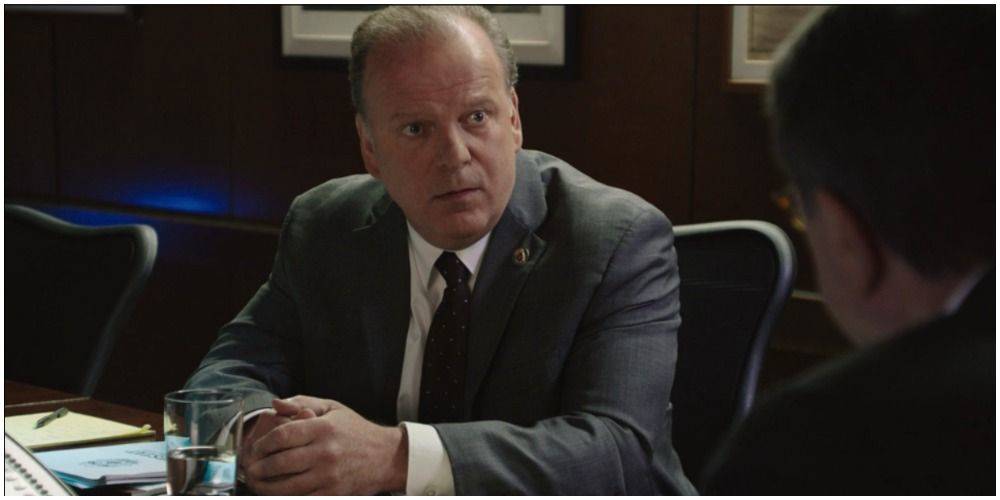 Mayor Dutton (Lorraine Bracco) opposes Frank's public safety initiative, but City Council Speaker Regina Thomas (Whoopi Goldberg) helps create a plan to bypass the Mayor's veto. Lieutenant Sid Gormley (Robert Clohessy) thinks this is great but is met with Frank's usual cautious optimism, which can be a bit of a downer sometimes.
Sid: "Well, how good does news have to be for you to look like you got good news?"
Frank: "That's a good question. I wish I had a good answer."
The Commissioner wants his way, but won't cut corners to get it.
Please Don't Gloat You're Better Than That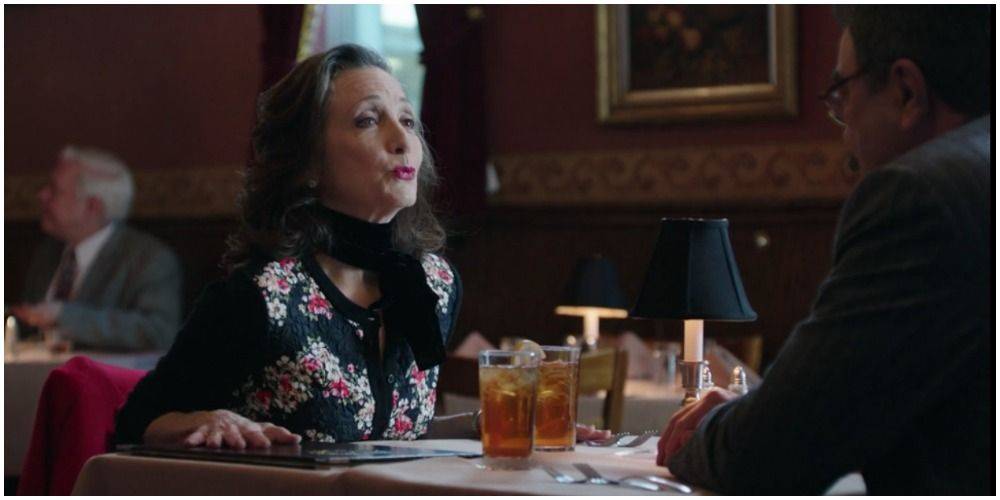 Frank, Garrett, and Gormley investigate the rise in the settlement of lawsuits against cops by Kelly Peterson (Bebe Neuwirth), the Inspector General of the NYPD. Frank thinks if an officer does something wrong he/she should be fired, but settling cases even when police go by the book is just plain wrong and disrespectful to the rank and file.
"Please don't gloat, you're better than that."
Frank: "No, I'm really not."
Reagan likes to be right, especially when the win is for his men and women in uniform.
There's Almost Nothing To Learn From Success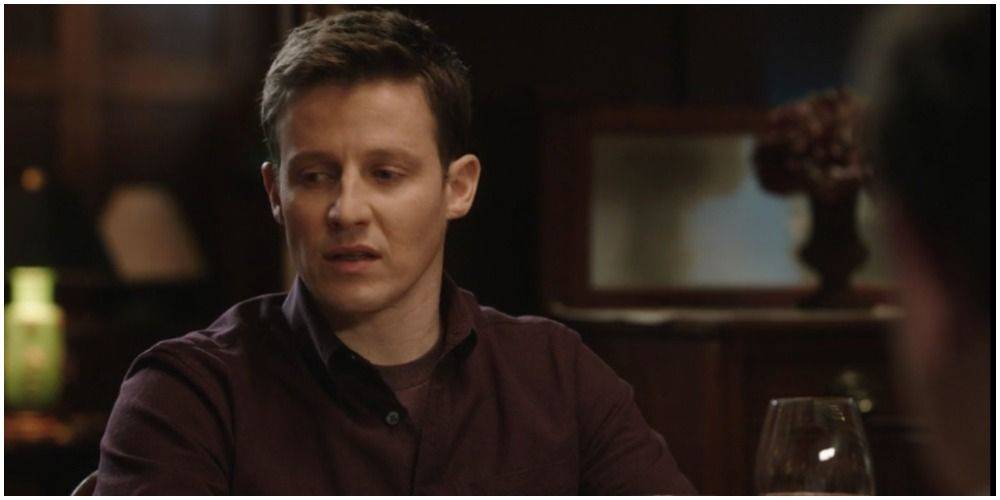 In this episode titled "Tale of Two Cities," all the Reagans deal with some kind of double trouble at work.
Meanwhile around the Sunday dinner table, instead of talking about each member's successes, they're tasked to describe how whatever they were working on that past week went sideways.
Jaime: "There's almost nothing to learn from success; failure on the other hand is the best teacher you'll ever learn from." Adding, "If you aren't failing, you aren't trying; if you aren't trying, you aren't really living."
You All Need A Flaming Liberal In The Mix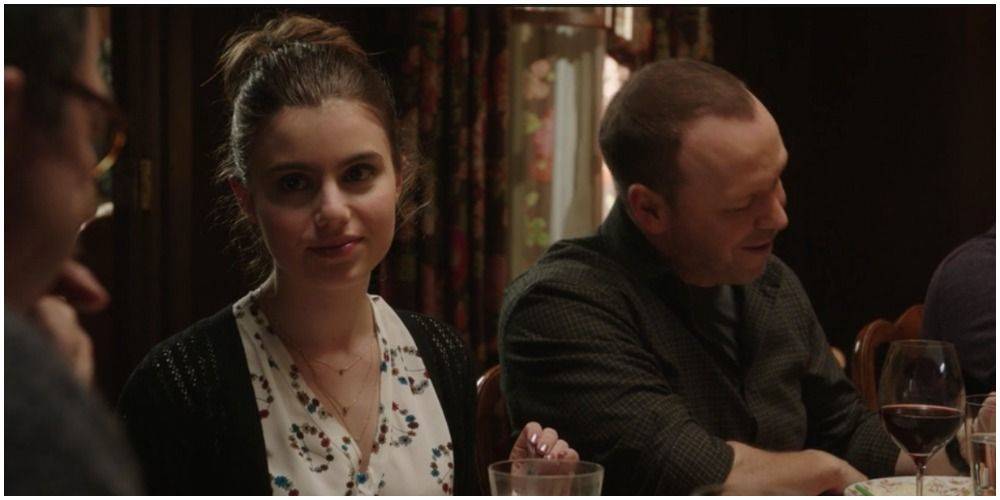 An acquaintance of Frank's comes to him with a theory regarding the deal of an inmate. A discussion ensues about violent criminals and the correction officers whose job it is to keep them in line; their methods in particular.
The pros and cons are debated at the Sunday family feast, with Nicky taking Erin's side, not because she's her lawyer mother's daughter but because she has her own unconservative opinions.
"I think you all need a flaming liberal in the mix to keep you honest."
You Sold Your Soul For A Place At The Family Dinner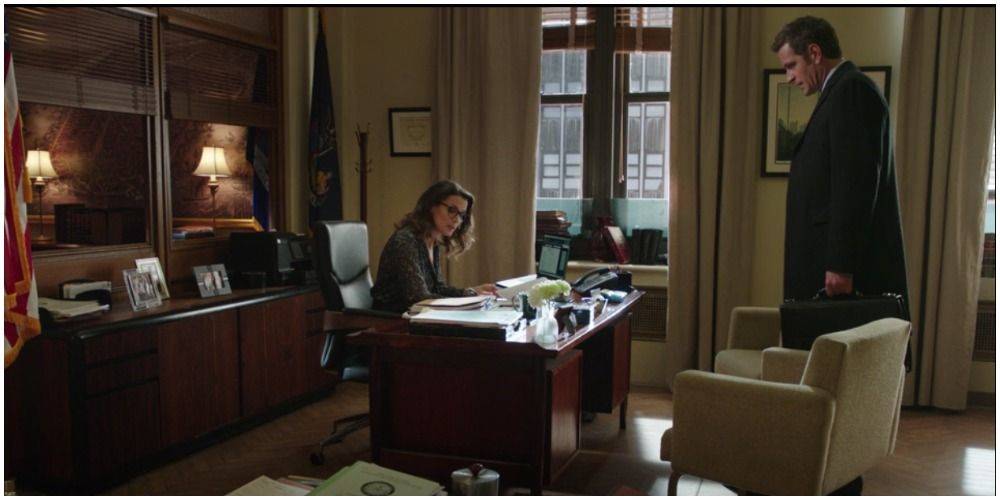 Erin goes up against her ex-husband Jack in court, accusing him of selling his soul for money by defending a cop killer. His gang initiation is to take out an NYPD officer. Clearly not intimidated by her or her famous maiden name, and adding that everyone deserves a fair trial the best representation, the defense attorney fires back:
"You sold your soul for a place at the family dinner because to sit at that table you have to subscribe to Reagan's Law that all cops are infallible."
Bad News, You Show Up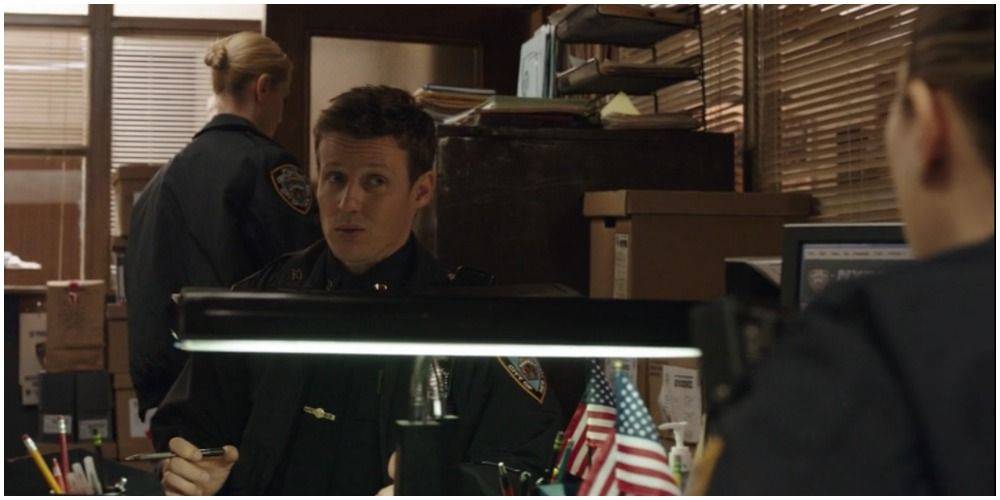 A good samaritan saves a woman who was kidnapped and held prisoner in a basement. Jamie however finds out that the savior has an outstanding warrant and he must be arrested.
Because he's got a big heart and a persistent Eddy as a partner, the youngest Reagan goes to his sister Erin asking her to work her district attorney magic to give the guy a break. When she shows up at the precinct, Jamie explains to Eddy:
"Reagan theory: Good news is easy; bad news you show up."
I Left My Brooklyn-To-English Dictionary At Home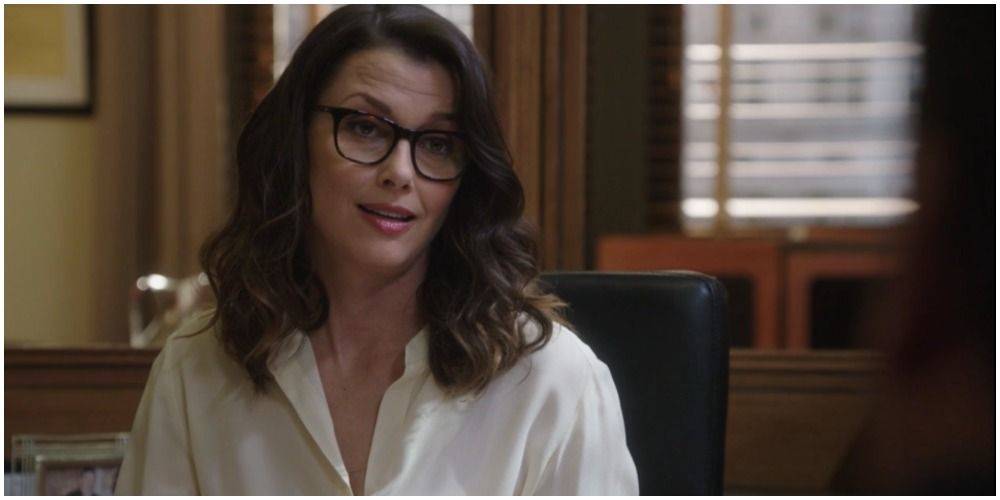 There's no doubt that Erin's investigator partner Anthony (Steve Schirripa) is an ace detective and all-around loveable, gentle giant, but his social skills leave a lot to be desired and he's never ventured very far from his outer-borough roots.
Hence, when he says things like "statue" instead of "statute" of limitations and explains he got in a car accident because some guy "was playin' kissy-poo with some tomatah," she can't help but respond sarcastically: "I left my Brooklyn-to-English dictionary at home."
He enjoys her mocking because she's in an uncharacteristically good mood as she's being romanced by her ex.
I'd Spend The Five Million On You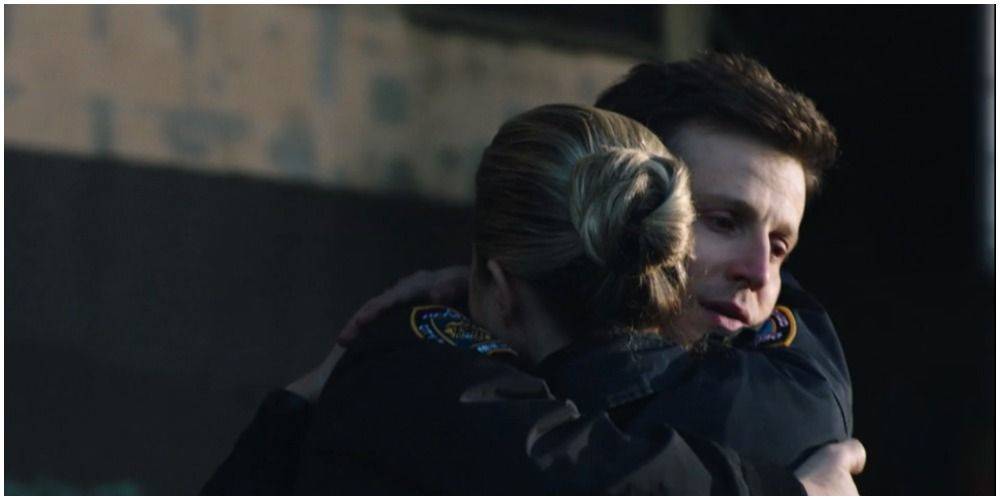 In the season finale, the running joke between Officers Janko and Reagan is would they spend their winnings on if they had five million dollars. Of course, there's a back-and-forth about donating to charities and buying fast cars, putting some into savings and investing in nice apartments, etc.
But when Eddy leaves Jamie in the squad car to make a coffee run, and her sixth sense tells her that her partner is in danger, she runs outside just in time to save his life. The sexual tension which has been brewing since the two began working together, finally is realized to be love and Jamie tells Eddy, "I'd spend the five million on you." In the end scene at the family dinner, they announce their engagement.