The Clint Eastwood Movie That Got Luke Grimes Cast On Yellowstone!
No one could've predicted the runaway success of the hit Paramount series "Yellowstone." The latest season of the Western drama broke record after record, and several spin-offs were announced to follow. The Taylor Sheridan-created series follows the Dutton family, their famed ranch, and the countless conflicts they find themselves in.
Luke Grimes stars as Kayce Dutton, the oldest living son of John Dutton (Kevin Costner). Kayce is a livestock commissioner and Navy SEAL veteran caught between his tough-as-nails father and their ranching family and his wife, Monica Dutton (Kelsey Asbille), who grew up on the Broken Rock Reservation, which is in direct opposition to the ranch. He struggles to align himself with one side over the other, which often lands him in hot water when the two clash.
Kayce is a fan-favorite "Yellowstone" character, and it's hard to imagine anyone else playing the complex role. Grimes actually landed the part because Sheridan was impressed by his performance in a Clint Eastwood film.
Sheridan liked Grimes in American Sniper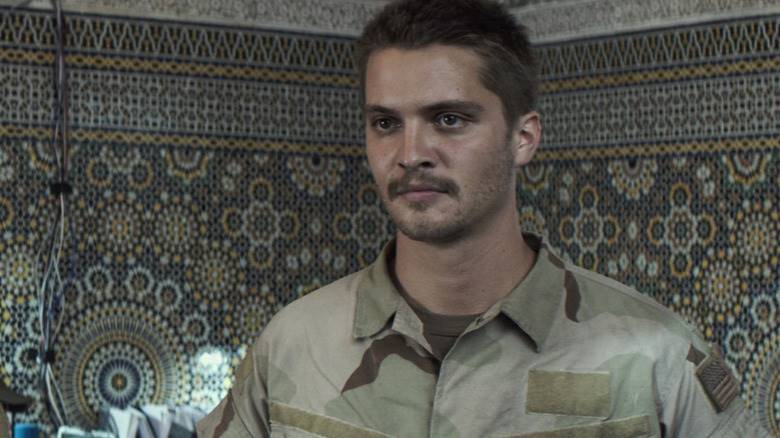 Warner Bros. Pictures
In an interview with The Hollywood Reporter, Luke Grimes opened up about how thrilled he was to join the cast of "Yellowstone." He revealed that he was instantly smitten with the character of Kayce Dutton and was sold on the project because he had been a fan of Taylor Sheridan's work. He knew that he had to score this role, and Sheridan felt similarly.
The "Yellowstone" creator had Grimes on his radar because of the 2014 Clint Eastwood film "American Sniper," which he had watched while writing the show. The war film is based on "American Sniper: The Autobiography of the Most Lethal Sniper in U.S. Military History" by Chris Kyle, a revered marksman whose military success led to the deterioration of his personal life.
Grimes played Marc Lee, a Navy SEAL killed in combat. "So just the correlation between Kayce being a Navy SEAL and then seeing me do that on 'American Sniper,' I think, clued him in that maybe I could play a role like that," he told THR.
"And thank God. I don't know if that helped my chances or got me to the top of the list or what, but I do know that he saw that movie and that he's a big fan of Clint Eastwood, as am I," Grimes said.