1. Both her parents were actors, but they didn't encourage her to join the industry.
Aniston's father, John Aniston, starred on "Days of Our Lives," and her mother, Nancy Dow, starred on 1960s shows like "The Beverly Hillbillies" and "The Wild Wild West."
But they weren't exactly receptive to their daughter following in their footsteps.
In 2015, Aniston told Collider that although she had a love for the theater growing up in New York City, her parents were pretty strict on her time in front of the television.
"I was hell-bent because my dad was just begging me not to be in the industry.  He said, 'I do not want your heart broken.  The rejection is brutal.  Please, please, please don't do that.  Become a lawyer.'" she said. "That was my one rebellion.  I was hoping that I was going to make it so that I could prove him wrong. 
2. She had plenty of jobs before landing her first acting gigs.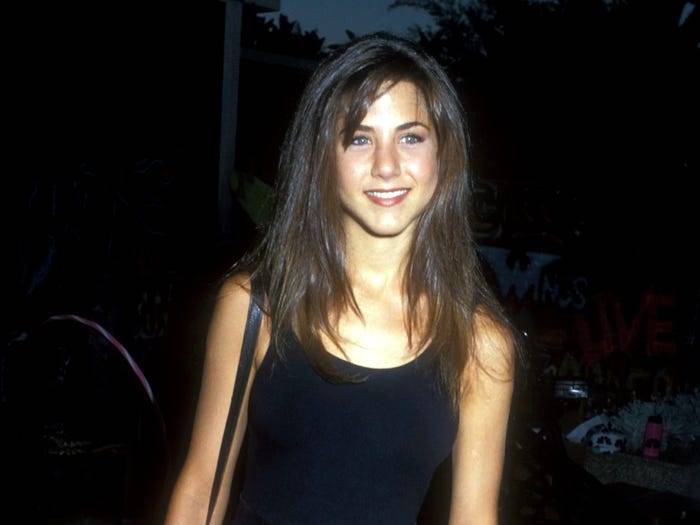 After pursuing musical-theater roles in high school, Aniston began auditioning in both New York City and Los Angeles while holding down several less-than-glamorous jobs.
At a 2011 press conference for her movie "Horrible Bosses," she said, "The toughest job I've ever had was being a bike messenger in New York City. I was 19."
She added that her worst day on the job was when she drove into an open car door. "I'm just very uncoordinated and extraordinarily klutzy. And I just never should have been allowed on a bicycle with cylinders," she said.
She apparently lasted only two days, telling Collider, "It was really wrong to put me on a bike in New York City with taxi cabs."
During this time, she also worked as an ice-cream scooper and a waitress. 
In 1996, Aniston told Rolling Stone that she eventually moved to Hollywood, and "sold her soul" to take a job as a telemarketer, before snagging her first acting role.
3. Aniston said she rocked a goth look in high school.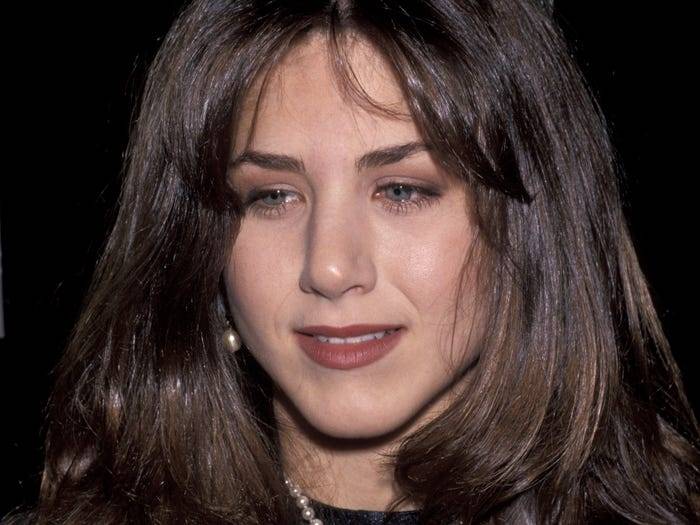 These days, she's an A-list celebrity, but her high school years were a different story.
She told People magazine in 2016, "High school was tragic. Just not well-informed. You know, you're experimenting. It was the '80s and I looked like a goth nightmare."
"I wasn't going for most beautiful," she added. "It was, 'how can I be the most rebelliously unattractive?'"
4. She was on four different TV shows before "Friends."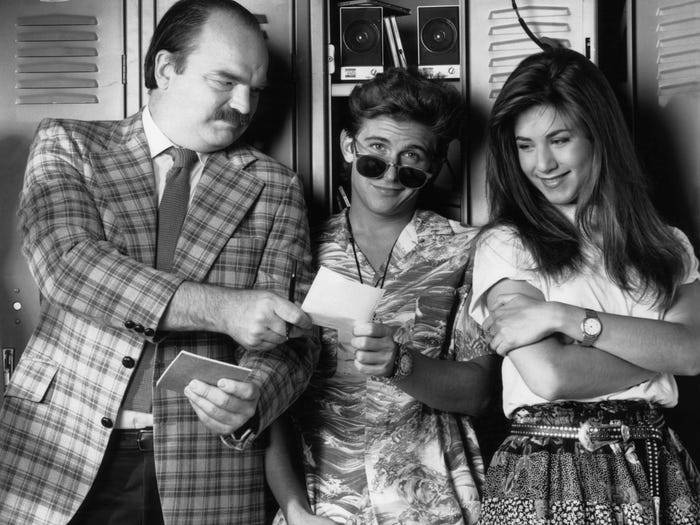 Few fans realize that Aniston had been on four short-lived sitcoms before landing the role that made her famous.
At 21, she starred alongside "The Big Bang Theory" and "Blossom" star Mayim Bialik on Fox's "Molloy," acted on a brief TV adaptation of "Ferris Bueller's Day Off" in 1990, appeared on a Fox sketch comedy series called "The Edge" in 1992, and worked on a CBS comedy called "Muddling Through" in 1994 right before she landed the role of Rachel Green.
She told Collider in 2015, "I just had this deep feeling in my gut that somehow something was going to happen, and I just had to be patient."
5. Adam Sandler revealed that Aniston turned down a spot on "Saturday Night Live" to star on "Friends."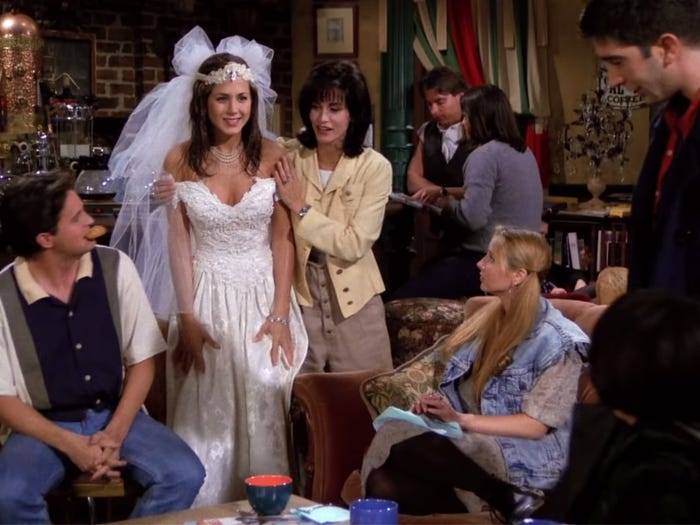 Aniston flexed her comedic chops early and nearly starred on "Saturday Night Live."
But in 2011, longtime "SNL" cast member Adam Sandler revealed to Oprah that Aniston turned the role down to star on "Friends."
"I remember being on the ninth floor where Lorne Michaels' office was, and seeing Jen come in. I was like, 'Oh, my God. There's Aniston. Is she about to be on our show?'" he said. 
Aniston shared that "SNL" wasn't happy with her decision.
"They thought I was making a huge mistake," she said.
6. Someone else was being considered for the role of Rachel Green.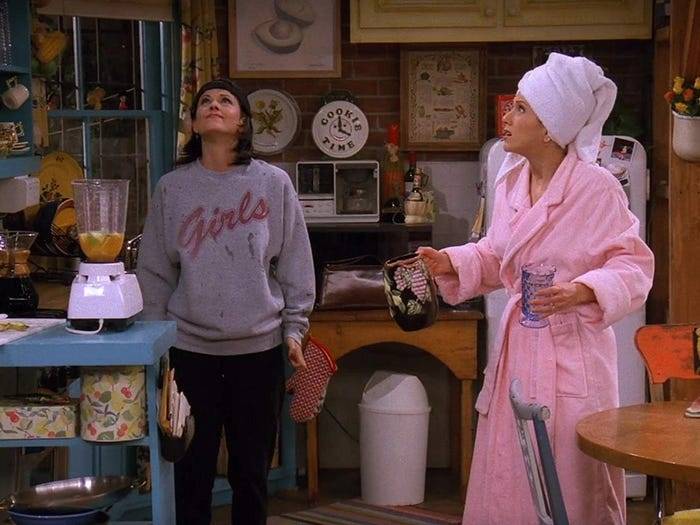 It's hard to imagine anyone else as Rachel Green, but Aniston told Collider that she nearly swapped roles with costar Courteney Cox.
She said, "They wanted [Courteney Cox] to play Rachel. Unbeknownst to each other, I wanted to play Rachel and she wanted to play Monica. It worked out perfectly."
7. She hated her famous haircut.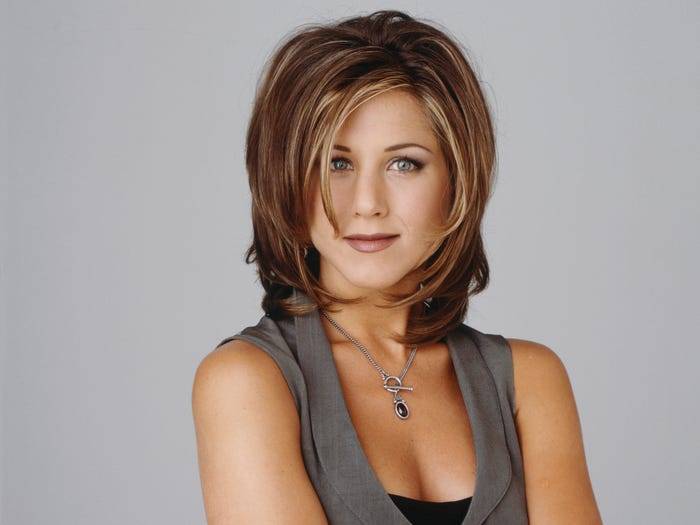 Throughout the late 1990s, women everywhere tried to emulate "the Rachel," Aniston's signature hair look from the early episodes of the show.
But even though Aniston's hair has inspired trends ever since, it seems she's not a fan of her most-famous cut.
She has worked with stylist Chris McMillan ever since, but told Allure in 2011, "I love Chris, and he's the bane of my existence at the same time because he started that damn Rachel, which was not my best look. How do I say this? I think it was the ugliest haircut I've ever seen."
In fact, Aniston couldn't even style the look herself, so she was completely reliant on McMillan for the six months she rocked "the Rachel."
8. Aniston is mortified by her first big-screen role.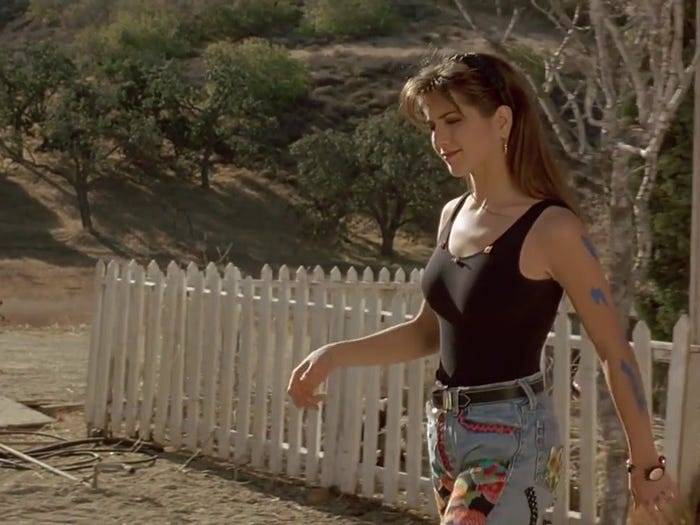 These days, she's a romantic-comedy queen, venturing out into other genres as well, including dramas, but her first big-screen role came in the campy, horror cult-classic "Leprechaun."
In 2014, she appeared on "The Graham Norton Show," and when Norton asked if she'd seen the movie about a killer leprechaun recently, she said, "Actually, it was a mortifying moment when [ex-husband] Justin [Theroux] and I had just started to date. He was flipping through the channels and he stumbled upon that. And that was our next two hours, much to my embarrassment."
9. Aniston has made cameo appearances in a few music videos.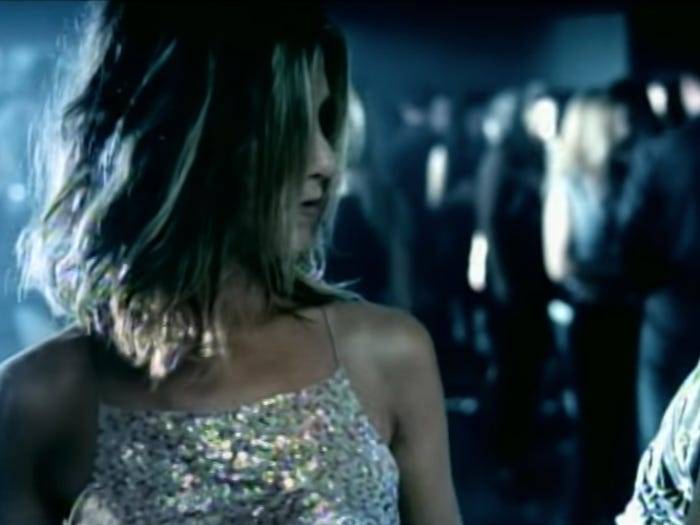 You can catch a glimpse of the Aniston in three different music videos: 1996's "Walls (Circus)" by Tom Petty and the Heartbreakers, 2001's "I Want to Be in Love" by Melissa Etheridge, and, of course, 1995's "I'll Be There For You" by The Rembrandts with her "Friends" costars.
10. In 2015, she told fans she has dyslexia.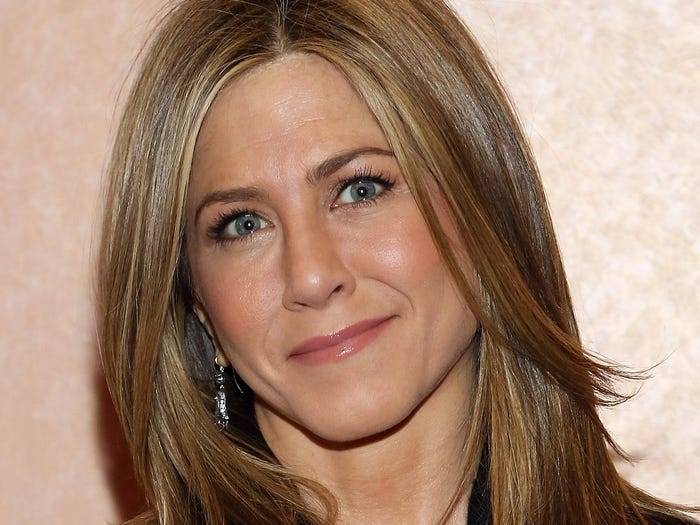 Aniston told The Hollywood Reporter that she always struggled with education until she was diagnosed with dyslexia, a learning disorder that can make reading difficult, in her early-20s.
She said, "I thought I wasn't smart. I just couldn't retain anything. Now I had this great discovery. I felt like all of my childhood trauma-dies, tragedies, dramas were explained."
To compensate for her worries, she said she focused instead on making people laugh when she was in school.
11. A traumatic experience in her childhood led to her fear of water as an adult.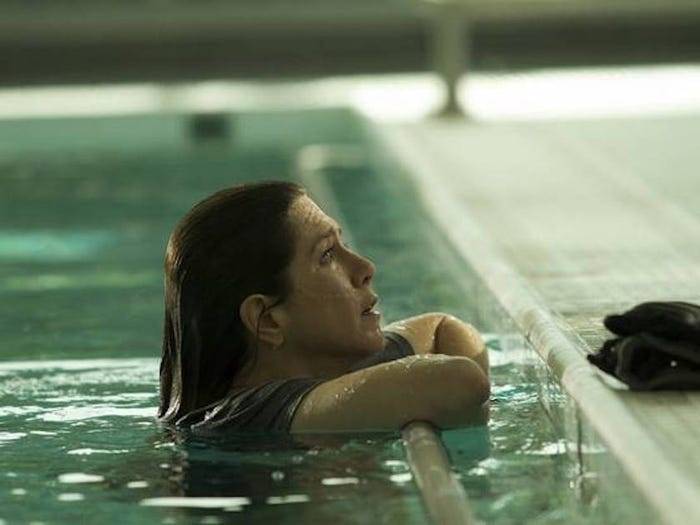 At a screening for her 2015 movie "Cake," Aniston revealed that she had a difficult time filming swimming scenes in the movie because she has a major fear of being underwater.
According to E! News, she said, "I basically have a real fear of going underwater. I was a kid and I was riding this tricycle around a swimming pool and I drove my tricycle into the swimming pool and I didn't let go and my brother tried to [help me]. So, I can't go underwater and no one will believe me. I honestly can't."
12. Her honeymoon with former husband Theroux was a group trip with close friends.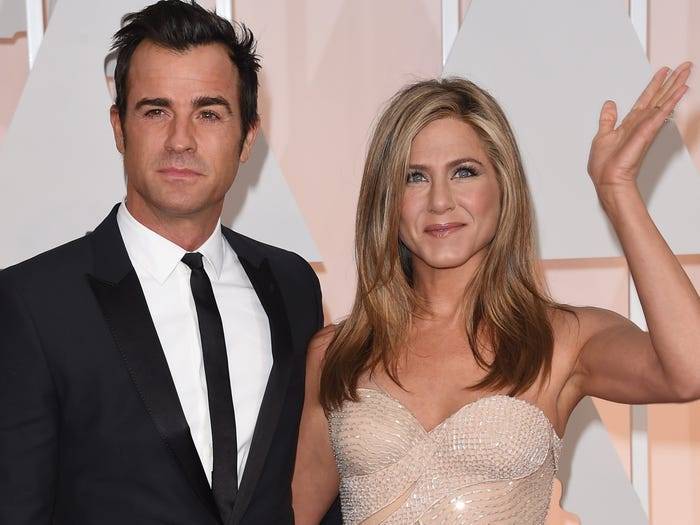 Instead of opting for a traditional honeymoon after their 2015 nuptials, Aniston and her then-husband Theroux celebrated their union with their friends, inviting famous pals like Chelsea Handler, Jason Bateman, and Courteney Cox to the Four Seasons resort in Bora Bora.
Theroux dished on the trip to Extra TV saying, "It was a fantastic honeymoon. We had thought about it; we could just do a normal honeymoon, or we could go with some friends, keep the party going, relax, and have fun. It was really special, it was really beautiful."
13. She has been open about how important therapy is in her life.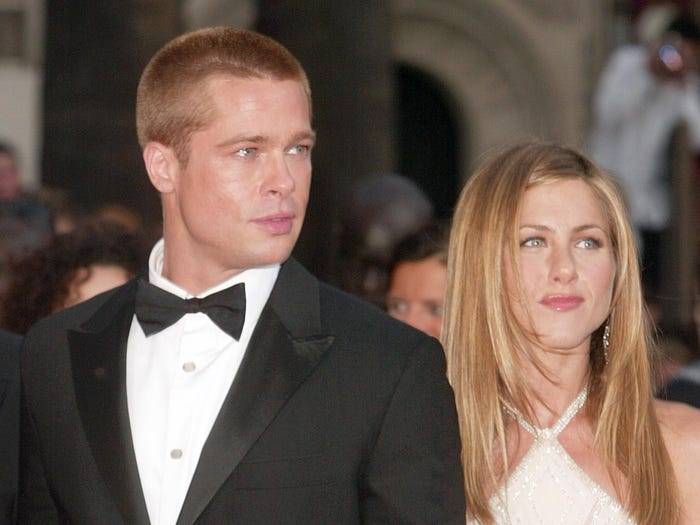 In 2018, when she was promoting "Dumplin," Aniston told  Extra TV about how the tumultuous relationship with her late mom helped her relate to her role in the film.
"How lucky I am I got through that without having any emotional scarring," she said. "I've been in therapy for years."
In 2015, she told The Hollywood Reporter that her beloved therapist unexpectedly died around the time that she was divorcing Pitt, sharing, "But I learned so much in the four years I worked with her, that when she did pass away I remember thinking, 'Wow, everything that we talked about and discussed, it's allowed me to be really peaceful about it all.' I mean, there were human moments. But I was really shockingly OK."