20 Behind The Scenes Photos That Completely Change Friends Everyone Don't Know!
1.The one where they film with babies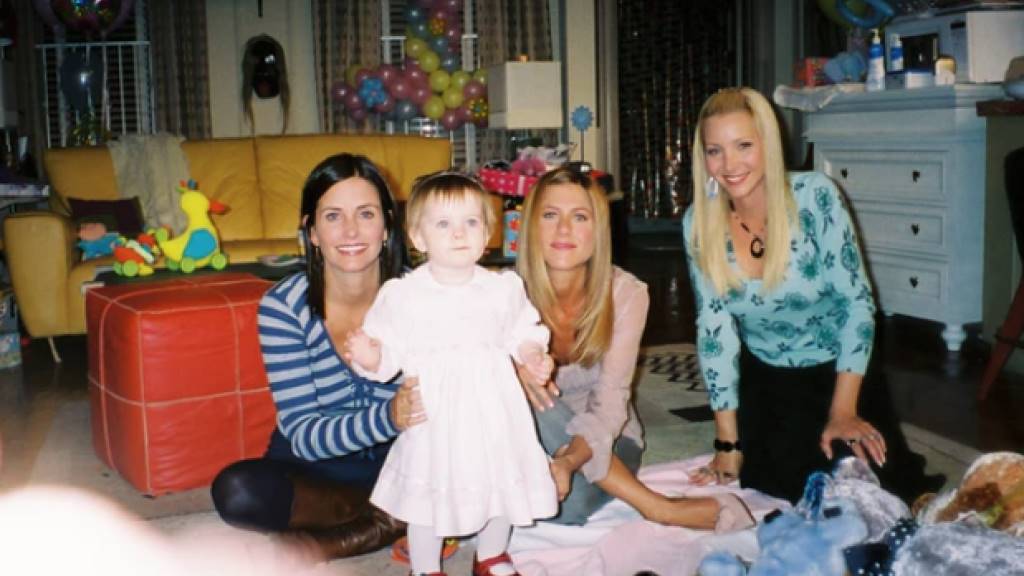 "The One With the Cake" had a lot of fun on-screen moments. We learned a lot about Ross's hidden talents - some can sing, some can dance, while he, apparently, can turn phallic cakes into woodland creatures. Off-screen, the fun moments included playing with baby Emma between takes.
Emma was actually played by twins Noelle and Cami Sheldon.
If you're wondering what it's like to be a baby on the set of a hit series, "Everyone was really, really nice to Noelle and Cali, and treated them like little princesses on the set. [] filmed before a live audience, and Cali and Noelle would come out, and they would be waving and engaging with the live audience. It was a lot of fun."
2. The one where Gunther shares a snack with an extra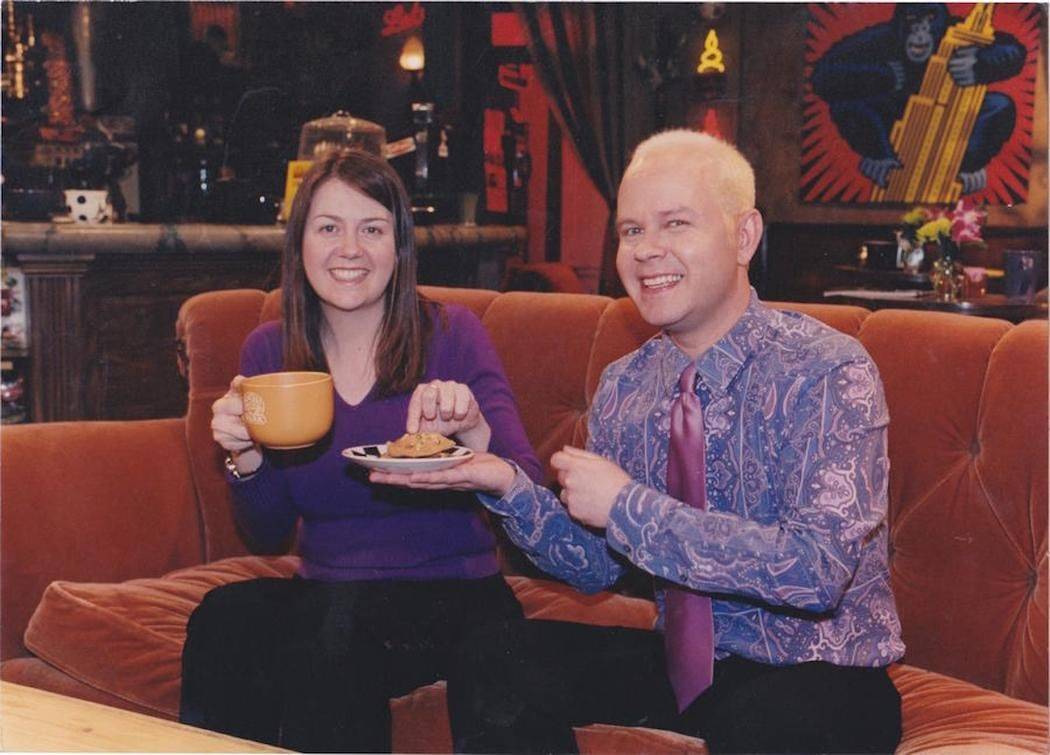 Gunther was not originally supposed to have any lines on . The actor who plays Gunther, James Michael Tyler, was originally cast as a background extra. However, Tyler was upgraded to a recurring role after the first few episodes because he was the only extra who knew. Despite his rise to fame, James Michael Tyler still hung out and fooled around behind the scenes with the other extras.
What many fans don't know about Tyler is that According to him, it was just "a happy coincidence." "I have a friend who wanted to practice on my head because they wanted to be a stylist, so I offered what hair I had left to turn white. It definitely completed the character," he said. However, the upkeep was brutal. Tyler had to bleach his hair every week for ten years.
3. The one where the girls are nervous about Joey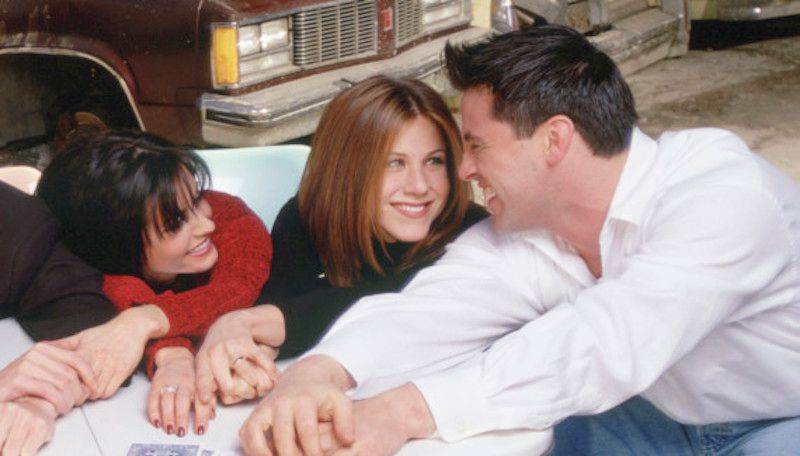 The show was as funny behind-the-scenes as it was on-screen. The cast was a true ensemble, and they often bounced ideas off of each other and found time to make each other laugh. However, the actors also had some preconceived notions about each other before they actually met.
Some of the female cast has said that they were nervous about working with Matt LeBlanc. All they knew about him was that he was a Levis model from Newton, MA whose father was a mechanic. "I was scared of that type of guy," . However, once they all met, those notions flew out the purple door. "He thinks it's very funny now. And actually, he can sit down and comfort me just like Courteney or Lisa could."
4. The one where Ross and Rachel study their lines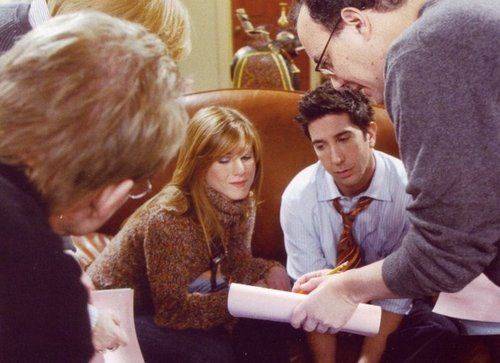 Ross and Rachel's relationship was a central storyline in and even though Ross mentions in the final season that "" it never really felt that way. On-screen, their chemistry drove the show, and off-screen, Jennifer Aniston and David Schwimmer worked hard to make sure that this was the case.
The photo above shows the actors rehearsing a scene for season 10 episode 16 "The One With Rachel's Going Away Party".
James Burrows, the show's director, once : "It's the same as Sam and Diane [from ]. They flirted for a lot longer, but you have to shake it up.… If you don't fight, and if you don't get angry, you have no place to go."
5. The one where the gang fools around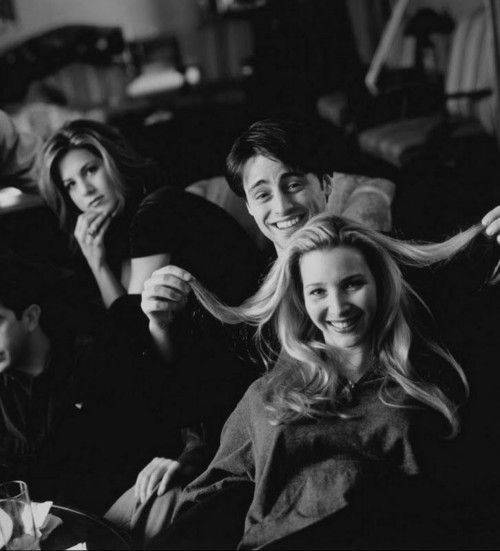 The cast was tight both on-screen and behind the scenes. They felt that they had to be in order to make the show work. "I think it was unspoken but we instinctively felt like we need to be friends, we need get along, we need to connect," said. "We spent 10 years together, almost every day... we all went through something significant together, and that's a strong bond. As you get older, you realize, oh, you don't have that with just about everybody."
When this photo was taken in 1994 during the first season of , Matt LeBlanc stated "We're a really tight ensemble, we get along really well. It's just a real productive environment and a great time."
6. The one where they thank the live studio audience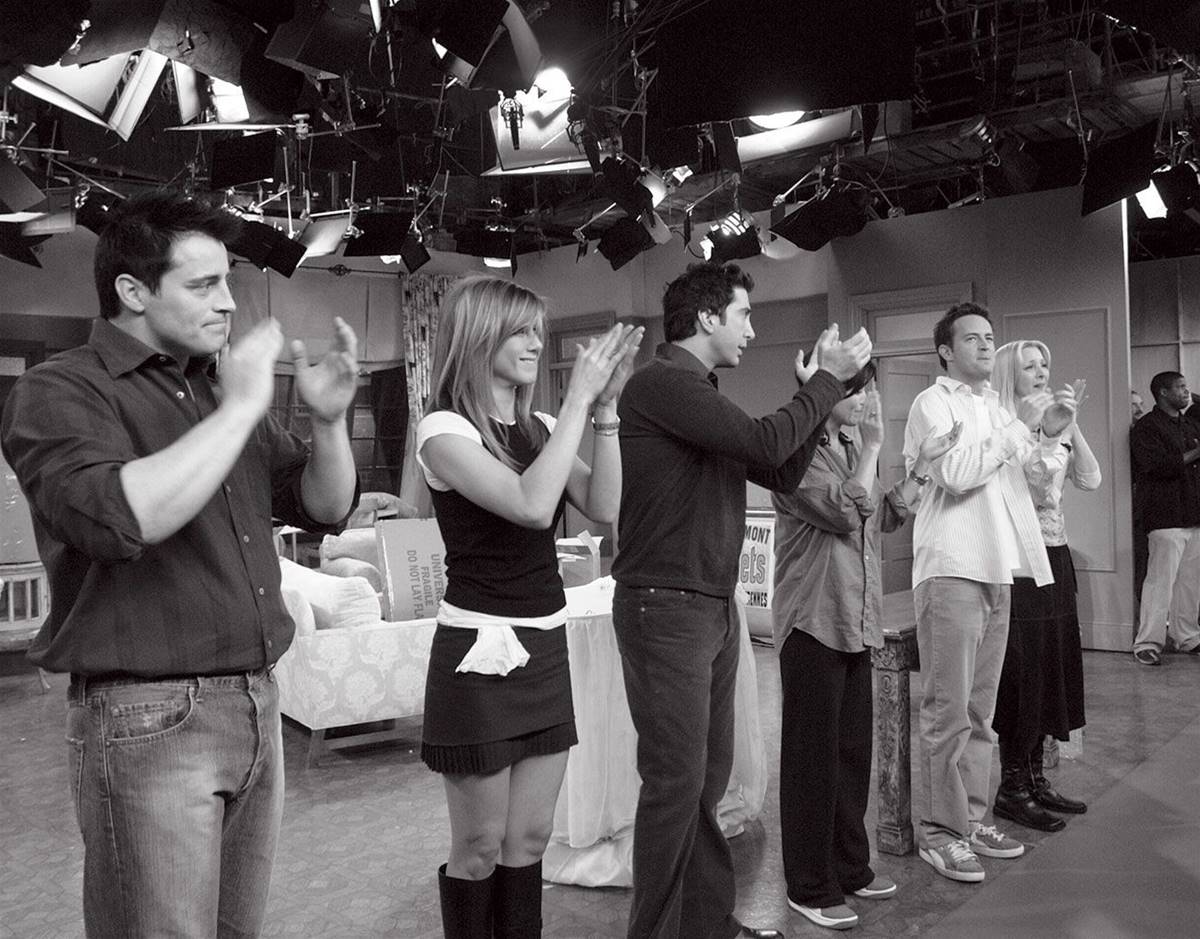 This photo shows the gang entering the studio and clapping for their live audience for (almost) the last time. This was part of the pre-show entrance for season 10 episode 17 "The Last One: Part 1". While each episode was only about 22 minutes long, . There were multiple takes of each scene and at least 20 minutes of set changes during each episode.
The live studio audience was an integral part of and many '90s sitcoms. The audience was there to build excitement, but also as a way to test the jokes before they went to air. The only things not shot in front of a live audience were certain plot surprises or season cliffhangers.
7. The one where Christina Applegate guest stars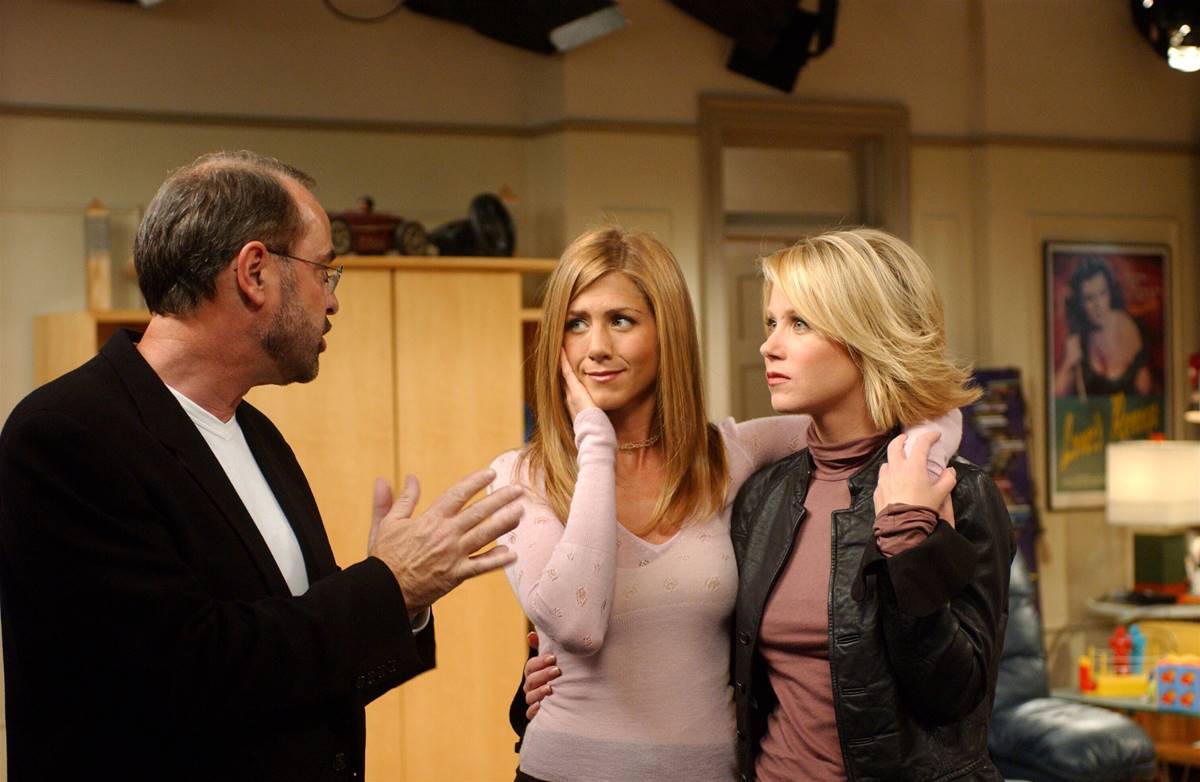 had many famous guest stars throughout its ten seasons, including Brad Pitt, Winona Ryder, Alec Baldwin, and John Stamos, just to name a few. Pictured above is a behind-the-scenes look at Jennifer Aniston as Rachel Green, guest star Christina Applegate as Amy Green, and creator David Crane giving the two actors notes.
It's rumored that Christina Applegate was only asked to appear in . The episodes that Applegate appeared in were supposed to feature Rachel's sister Jill (played by Witherspoon). However, she was unavailable, so the writers brought Rachel's second sister into the picture. It's a good that thing they did. Christina Applegate ended up for Outstanding Guest Actress in a Comedy Series for her portrayal of Amy in "The One with Rachel's Other Sister".
8. The one with Phoebe and Chandler rehearsing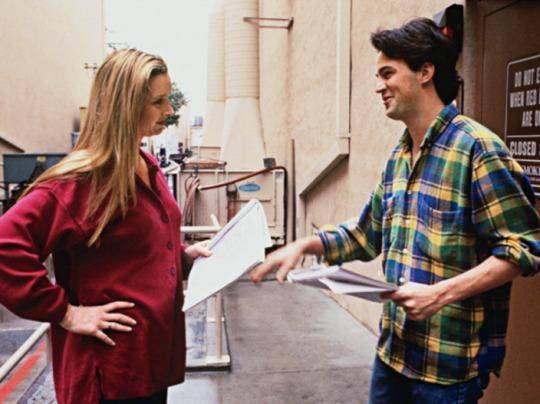 When the script for was first written, it only focused on four friends. Phoebe Buffay and Chandler Bing were originally only going to be who appeared in a few episodes. Phoebe's character was also originally written . It's hard to imagine the group dynamic if either of these original ideas had come to be.
This behind-the-scenes photo shows off Lisa Kudrow and Matthew Perry as we know and love them - two main cast members sharing a laugh between scenes. "I find myself sort of reminiscing about how much fun the show was, and the hours that we worked," . "You know, you can see how much we laughed and everything"
9. The one with Ross directing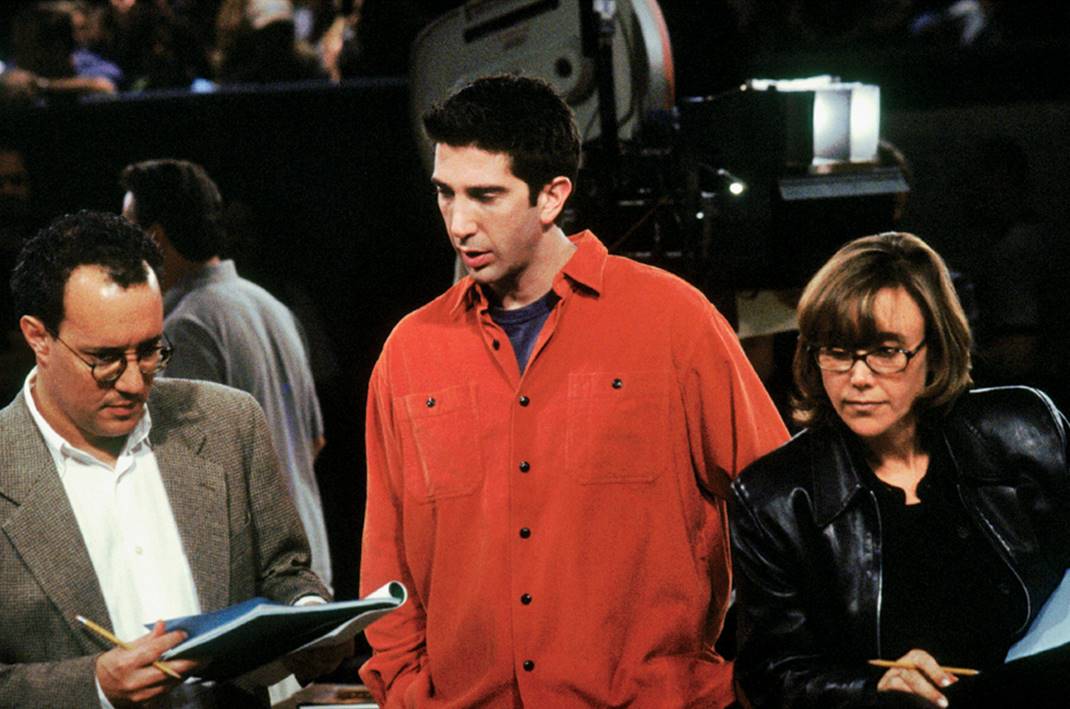 David Schwimmer was the very first actor cast in . In fact, the writers created the role with him in mind, so he was invited to join the cast When Schwimmer was contacted about being Ross on Friends, he. He had given up on testing for TV shows and was working on starting a theater company in Chicago.
"It was hugely flattering, and I thought, well, it's quite disrespectful with all this talent asking to meet and just consider it. I'd be an idiot not to go," . Schwimmer is pictured above with the writers, going over jokes for an upcoming scene. He starred as Ross Gellar (occupation: dinosaurs) for ten seasons and also directed ten episodes of the series.
10. The one with Chandler & Rachel laughing between takes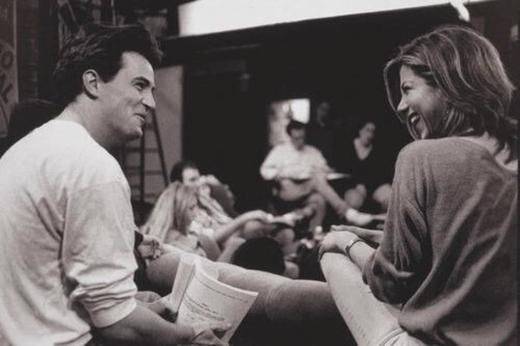 Pictured above are Jennifer Aniston and Matthew Perry sharing a close moment together during rehearsal. While the cast often talks about all of the fun that they had on set, they also faced some hardships. Perry went through arguably the most change out of any of the cast members. He battled substance and alcohol addiction while shooting . Because of this, he was during filming. "[I] can't remember 3 years of shooting," he said.
However, Perry was able to overcome his addictions. He then to help other addicts and transformed his former home in Malibu, California into a sober living home for men called the Perry House. Perry was also honored with from the White House.
11. The one where Joey and Phoebe have all the chemistry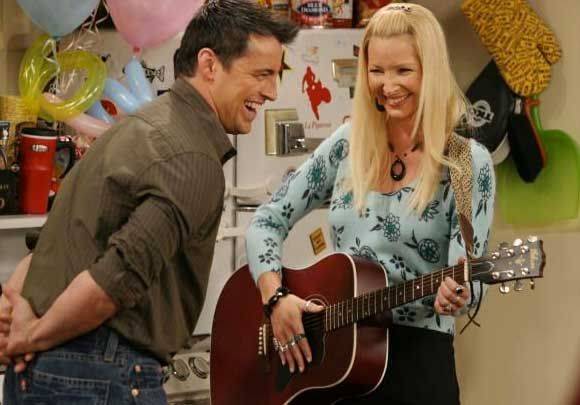 This photo was taken behind-the-scenes of "The One With The Cake", an episode centered around Emma's first birthday.
Matt LeBlanc and Lisa Kudrow loved laughing together offscreen and were great at making audiences laugh on-screen.
Their chemistry begged the question: why didn't Joey and Phoebe ever get together?, "Towards the end, we actually pitched the idea that Joey and Phoebe had been [sleeping together casually] the entire time." They wanted to go back and shoot all of the most iconic scenes, in order to reveal that Joey and Phoebe had just been getting together, but the writers said no because it didn't
12. The one where it's all about Chandler and Monica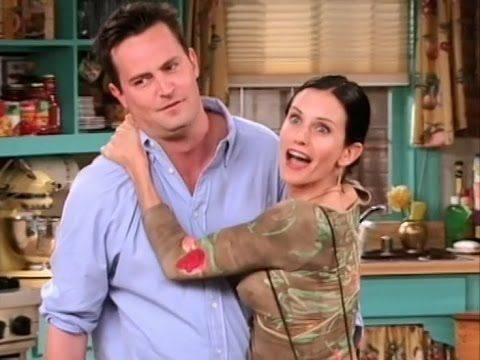 Chandler carries a slightly injured Monica over the apartment door threshold in "The One After Vegas". This hilarious behind-the-scenes photo was snapped at the moment right Courteney Cox had been hanging off of Perry's neck for just a bit too long, and both of them were laughing but relieved to move on to the next scene.
has addressed the Monica/Chandler relationship and its impact on the series countless times. "If you didn't have a Monica-and-Chandler relationship, if the center of had remained Ross and Rachel, you would've seen a much shorter shelf life for the show," Silveri said. "Without Monica and Chandler, it ends three years earlier."
13. The one with the cast huddles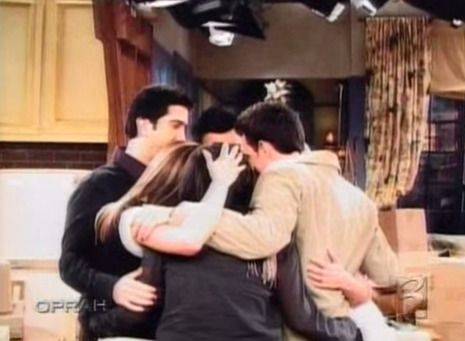 This photo captures an emotional behind-the-scenes moment on . The cast often huddled before each episode to wish each other luck. The photo here shows one of the very last cast huddles before the cast filmed "The Last One: Part 1".
When the final episode of aired in 2004, fans weren't the only ones grieving. The cast also had a very. "I don't think we've ever taken more time in hair and makeup in between scenes," Jennifer Aniston said. "...we kept crying all our makeup off, over and over again." Things also weren't easy for David Schwimmer. "I started to lose it... that was the moment I was dreading for a long time," he said.
14. The one where Lisa Kudrow is actually pregnant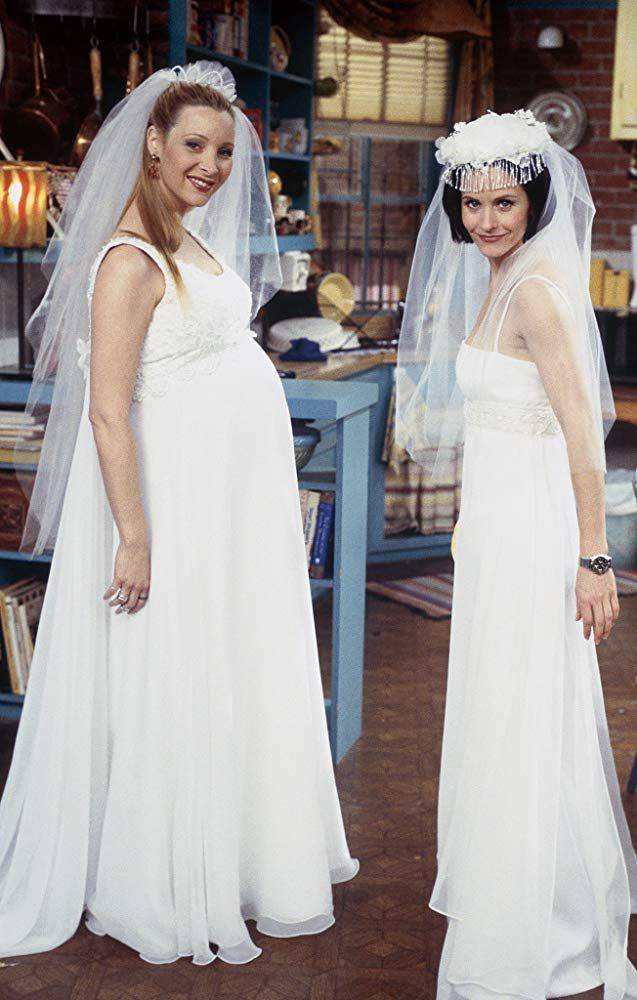 Lisa Kudrow and Courteney Cox were all smiles between filming takes in "The One With All The Wedding Dresses". In this episode, Monica tries on Emily's wedding dress and Phoebe, who wants to get-in on the fun, rents one of her own.
However, Kudrow's real-life pregnancy meant that Phoebe had to rent her dress from a store called It's Not Too Late.
Kudrow had nothing but warm things to say while acting on . "The six of us would do a huddle backstage and just say, 'All right, have a good show, love you love you love you love you'... and when I was pregnant, then they would say, 'Have a great show, love you love you — love you, little Julian!'…. so sweet, they included my little fetus in the huddle."
15. The one with Ross and some awesome guest stars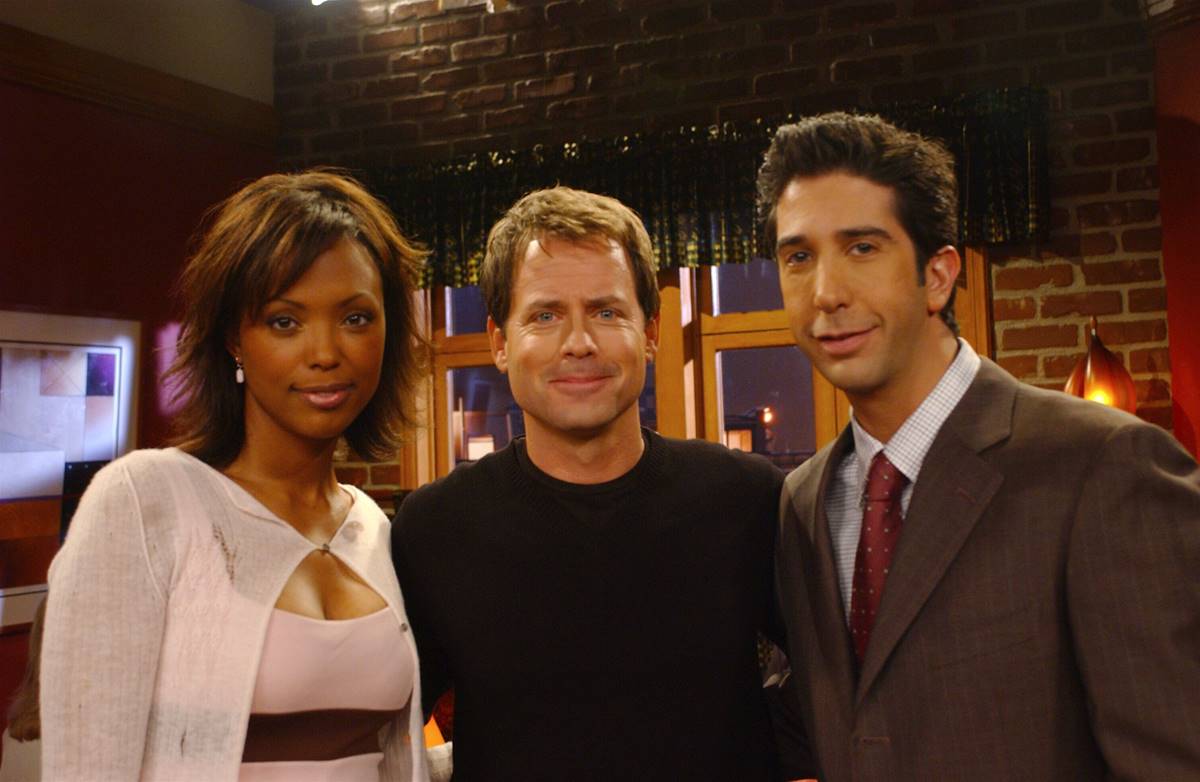 This photo captures David Schwimmer posing with two excellent guest stars, Aisha Tyler and Greg Kinnear, during their stint on . The story arc of Ross dating Charlie (Tyler) was a notable moment in the show's history. After all, Tyler was the first black actress to become a (temporary) series regular.
"The cast was incredibly welcoming when I first joined," . "I think they were very aware that it could be an intimidating set, and they made a special effort to be kind and open towards me... The night of my very first live performance in front of a studio audience, as the cast came together... to take a bow in front of the crowd, Matthew Perry made a point of saying to me as a quiet aside, 'Get ready for your life to change,' and it did!"
16. The one with Rachel and Joey being adorable, again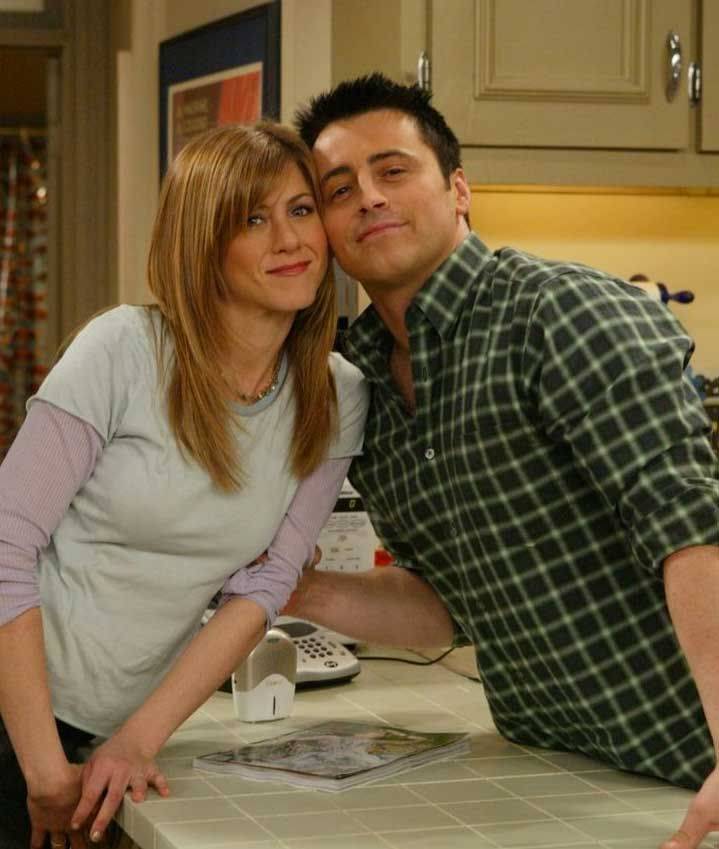 This sweet photo shows Jennifer Aniston and Matt LeBlanc striking a pose while filming season 10 episode 10 "The One Where Chandler Gets Caught". Aniston and LeBlanc were close on-screen and off, and the whole cast remains close today. "We're lucky to actually love each other,". "We're really fortunate that there's not a bad seed in the bunch, and yes, we were all really friends and cared about each other and had each other's backs. We went through some really challenging times personally and were there for each other."
It's fun to search for moments that show off the cast's friendship and closeness, especially unintentional moments. Another great example can be found in "The One Where Ross Dates a Student" - if you look closely, you can spot, "
17.The one where Monica reads through a script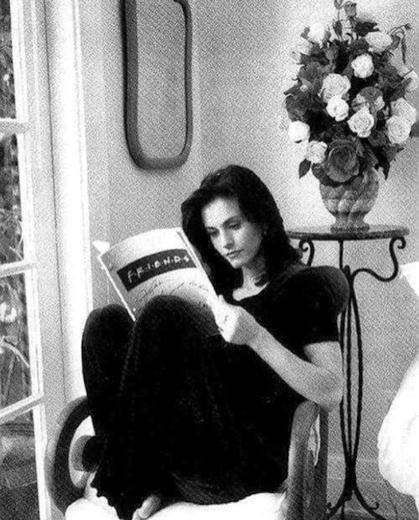 The cast used their fleeting downtime to relax, focus on the day's work, and study their lines. This photo from the early seasons of shows Courtney Cox in a rare moment of solitude reading through the script for an upcoming episode. Cox is a lot of things. She's Monica Gellar, she's Monana, and she's in the prime of lime. However, she almost wasn't.
When Cox was originally being considered for , the producers wanted her to play Rachel Green. However, Cox wanted to play Monica instead. She felt that Monica was a stronger character and therefore told producers that she felt that. "I thought I related more to Monica, which maybe it's because I do," Cox said. "I'm very similar to her."
18. The one where it's the last episode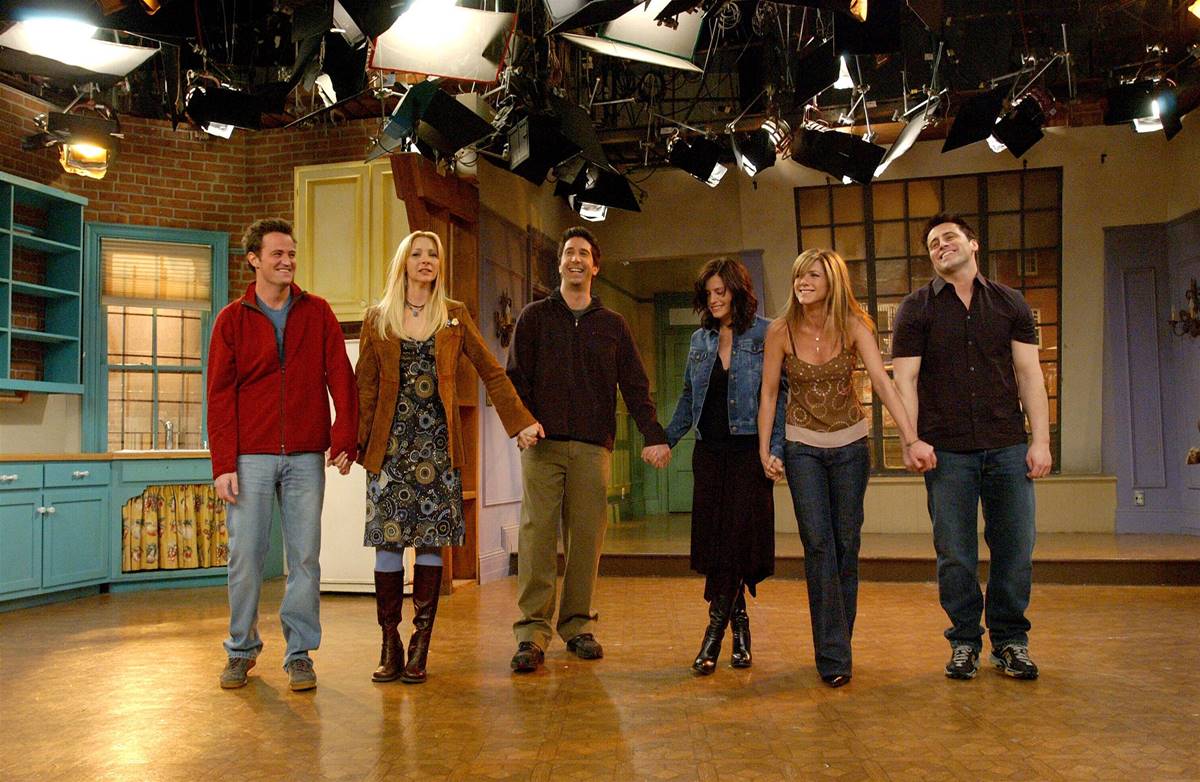 This now-iconic photo shows the main cast bowing after the last episode of . After 236 episodes, came to an end on May 6th, 2004.
At this point, the cast had been through a lot together, whether it be personal struggles or negotiations.
In fact, it was David Schwimmer's idea for the cast to form a mini-union. They decided that each one of them would be paid the same amount or Thankfully, the decision paid off big time. During the first season, the main cast earned $22,000 each per episode. In 1997, they banded together to negotiate an increase of $100,000 per episode. By the time this photo was taken, they were each earning $1,000,000 per episode. It was the first time in TV history that cast members had demanded.
19. The one where the iconic picture frame was installed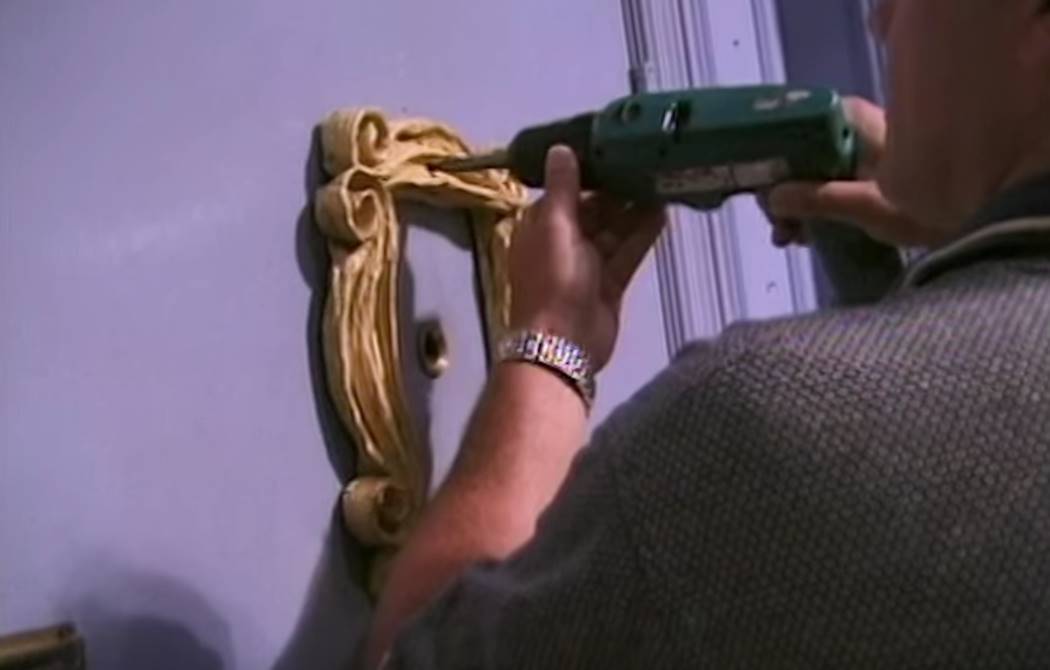 This photo shows the now iconic peephole picture frame being installed on set. set decorator Greg Grande bought the frame from the Rose Bowl Swap Meet and originally incorporated it into the set as a normal picture holder that sat on a table.
However, Grande let audiences in on a secret about the frame "I originally had it as a picture frame that had a back on it," Grande said. "And while we were dressing, the glass in it broke and I told one of the guys, 'Well let's see what that frame looks like around the peephole.' And they put it up there for me and that's where it lived for the next 10 years."
20. The one where Joey & Rachel are adorable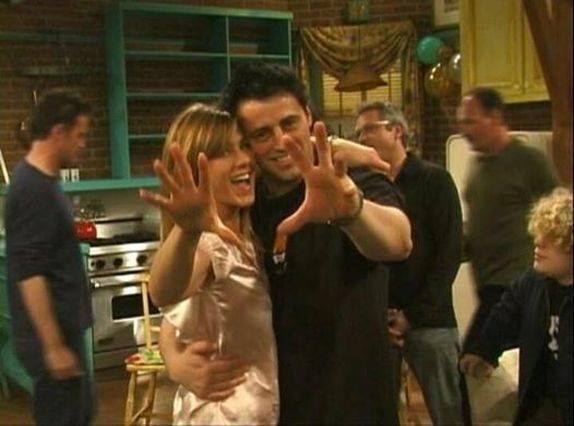 While Jennifer Anniston and Matt Le Blanc had a great relationship on and offscreen, things got a bit more complicated when it came to the relationship between their characters.
Many fans disliked the couple, and as it turns out, several cast members voiced their aversions as well.
"It felt wildly inappropriate," . "Everybody got super-defensive about the whole thing. We went to David and Marta as a group and said, 'We're really concerned about this. It doesn't feel right. We have a problem with it.'" "I just don't think Joey and Rachel could have made it. I think it was more physical than emotional with them." Even though Joey/Rachel didn't happen, at least this adorable behind-the-scenes photo did.
What do you think of these behind-the-scenes photos? Sound off in the comments!