'Blue Bloods' Season 13 Finale: Jennifer Esposito Returns to Work With Danny and Baez (PHOTO)
Danny Reagan (Donnie Wahlberg) is reuniting with his old partner in the upcoming Blue Bloods Season 13 finale.
"Forgive Us Our Trespasses," airing May 19, will feature a slew of returning guest stars — Jennifer Esposito (Danny's former partner Jackie Curatola, last seen in Season 3), Stacy Keach (Archbishop Kevin Kearns), Dylan Walsh (Mayor Chase), Sami Gayle (Erin's daughter Nicky Reagan-Boyle), Peter Hermann (Nicky's father Jack Boyle), and Tony Terraciano (Danny's son Jack Reagan) — as revealed in the logline that CBS has released for it.
The network has also released a photo of Esposito and Wahlberg, alongside Marisa Ramirez, who came in as Danny's partner Maria Baez, after Jackie. Of note, Esposito is wearing a jacket that reads Chief of Police. We have to admit: We're looking forward to how those three work together.
In the finale, "Danny and Baez team up with Danny's old partner, Jackie Curatola, to find a copycat killer emulating a criminal's murders from a previous case," CBS teases. Plus, "Frank (Tom Selleck) and Mayor Chase battle over how best to handle the city's rising homeless population, and Jamie (Will Estes), Eddie (Vanessa Ray), and Erin (Bridget Moynihan) team up to build evidence against a man previously released, but once again committing criminal assault."
The good news is that however the Blue Bloods finale ends — likely not on a cliffhanger, going by past seasons — we already know there will be a 14th season. CBS renewed the drama in March.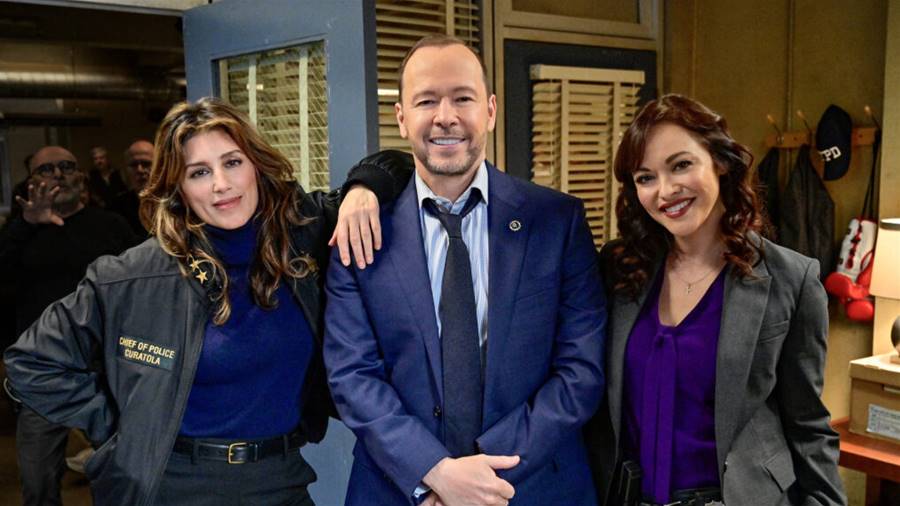 Essential Cast Additions on 'NCIS,' 'SVU,' '9-1-1' & More After Series Premiere
"Blue Bloods has dominated Friday nights since its premiere and remained an important anchor for CBS' winning lineup," Amy Reisenbach, president of CBS Entertainment, said at the time. "Led by the outstanding Tom Selleck and an incredible cast and creative team, viewers continue to embrace the Reagans, their law enforcement family, and the series' dramatic storytelling. We can't wait to pull a chair up to the Reagan family dinner table for another fantastic season."
With quite a few family members returning for the finale, we can't help but wonder how crowded the dinner table might be.