CBS' hit procedural drama Blue Bloods will conclude its 13th season next month, however, the show will end with a few surprises.
The drama confirmed the return of three major characters, including Detective Jackie Curatola (played by Jennifer Esposito) who was last seen in season three.
Jackie was an integral part of the show and a huge fan-favourite as she tackled crime alongside her partner Danny Reagan (Donnie Wahlberg).
Despite this, she made the decision to step back from police work and took early retirement after showing signs of burnout.
Although CBS and Esposito stated conflicting reasons for the exit, her comeback suggests they have seemingly put their acrimonious past behind them.
READ MORE: GMB viewers demand Adil apologise for 'disgusting' remark to Kate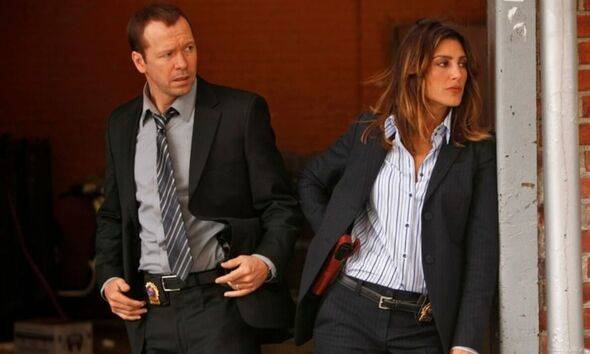 There is a possibility Jackie and Danny's reunion could stir up romantic feelings, considering they have spent so much time apart.
Jackie will appear in the season 13 finale to help Danny and Maria Baez (Marisa Ramirez) track down a serial killer.
The former partners will have much to catch up on as Danny was happily married when she last appeared on the show.
While this didn't put a stop to their chemistry, Danny's wife, Linda (Amy Carlson), has since passed away, which leaves the door open for some sparks to fly.
Don't miss... Corrie's Daniel Brocklebank 'absolutely devastated over co-star's exit [LATEST] Dan Wootton demands King 'withdraw Harry's invitation' to Coronation [WATCH] Emmerdale's Scott Windsor 'to return' as fans spot telling clue [THEORY]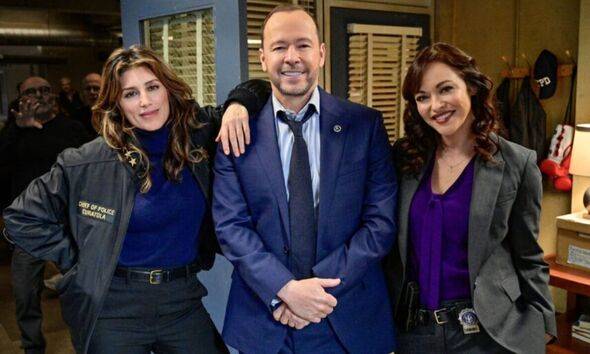 Blue Bloods also confirmed Erin Reagan's (Bridget Moynahan) daughter Nicky Reagan-Boyle (Sami Gayle) will also return from San Fransisco.
She could be seen sitting with her family at the infamous dinner table.
Danny's eldest son Jack Reagan (Tony Terraciano) was also featured in the first-look photo, this marks another huge return as he was last seen in season 12.
Also seated at the table are Jamie (Will Estes), Eddie (Vanessa Ray), Erin, Frank (Tom Selleck), Danny and Sean (Andrew Terraciano).
In 2012, CBS told The Hollywood Reporter, Esposito's exit was down to her availability as "she is only available to work on a very limited part-time schedule."
However, Esposito disputed this and took to Twitter to claim she had collapsed on set due to her celiac disease and was put on unpaid leave.
She wrote: "CBS didn't listen to my doc and I collapsed on set. Which everyone saw!
"After a week off my doc said I could return to work but CBS … (i)mplied that I was NOT truly ill and this was a scheme to get a raise!
"It's been almost two months without (bringing) me back to work + keeping (m)e from working anywhere else! …Absolutely shameful behavior."
Blue Bloods season 13 continues Fridays on CBS in the USA.